Cowboy Caviar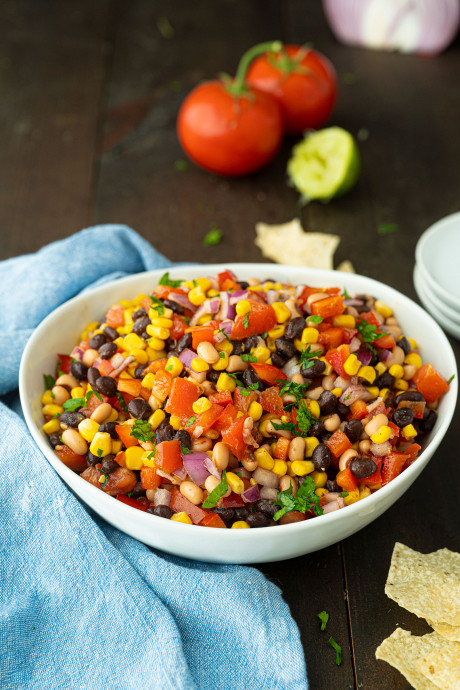 Though the name indicates it's similar to caviar, Cowboy Caviar really is anything but. Beans, peas, tomatoes, and corn all combine into a tasty snack that you can eat as a salsa or just with a spoon. Caviar may be a delicious, salty (very expensive!) treat, but for folks needing a more nutritious and cheaper alternative, there's Cowboy Caviar to save the day! The joy of a dish like Cowboy Caviar is its versatility. You can serve it alongside chips like a salsa, or you can spread it on bread and eat it as a lunch.
Also known as Texas Caviar, this oddly tangy and healthy dish has been served since 1940 and as good a native Texas dish as Tex-Mex barbeque. The key with this recipe is getting the vinaigrette just right so that it gives just the right amount of tangy acidity to the beans and tomatoes. Without it, this recipe is just a bit bowl of beans and peas and not much else.
Making the vinaigrette really tasty is all about using the right kind of seasoning with it. This recipe uses a simple combination of salt, cumin, and chili powder to provide a base Mexican flavor for your Cowboy Caviar. However, feel free to play with it and experiment to your heart's content. Instead of a pre-mixed chili powder, you could use dried chilies, toast them, soak them and then grind them to make your own custom spice blend. A combination of Ancho and Arbols would be especially delicious here, but just watch out for the spiciness! If you can't find honey for the dressing, make sure to sub in something else sweet, like table sugar. Without some source of sweetness, the sour, spicy acidity will overpower everything, and it just won't taste right.
Ingredients:
one 15 oz can of black beans drained and rinsed
one 15 oz can of black eyed peas drained and rinsed
one 15 oz can of corn niblets drained
one red pepper diced
1/2 large red onion chopped
2 medium tomatoes chopped and drained
2 tablespoon fresh cilantro chopped
Dressing
1/4 cup apple cider vinegar
2 tablespoons olive oil
1 tablespoon melted honey or white sugar
Juice of 1 lime
1 teaspoon chili powder
1/2 teaspoon cumin
1/2 teaspoon salt
fresh pepper to taste