Chocolate Chip Cookie Pie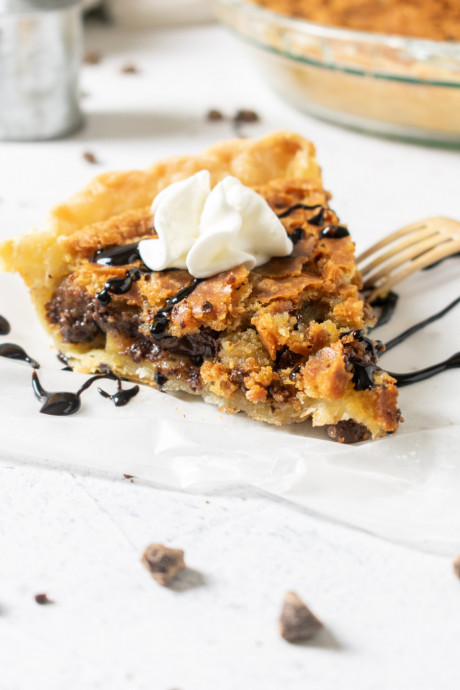 This chocolate chip cookie pie features an ooey-gooey filling that tastes just like an under baked chocolate chip cookie! Plus, it sits on top of my flaky all-butter pie crust. Dreams really do come true! Have you ever bitten into a slightly under baked chocolate chip cookie? The ultra gooeyness and still slightly warm from the oven just immediately puts a smile on your face. Why? Because who doesn't love that combination!
Sometimes pies are a little intimidating to make (they are for me at least), but trust me when i say this pie is easy from start to finish. And that includes the homemade pie crust too! Although you can buy a premade pie crust, i highly recommend you make your own! It only takes about 10 minutes and the taste is so worth it! The cookie dough filling pairs so well with my all-butter pie crust (the same one used with this plum pie). The crust is flaky and has a wonderful butter taste while the filling is gooey and rich from the chocolate chips. This truly is an amazing pie!
What makes this chocolate chip cookie dough slightly different from the normal cookie is the way that it's made. Normally you'll cream together the butter and sugars first, then add the eggs, vanilla, and eventually the flour mixture, but not with this recipe.
Instead, the eggs are beaten together first and the butter doesn't get mixed in until last. It's a little strange, but it's needed to create our ooey-gooey chocolate chip filling.
Ingredients:
ALL-BUTTER PIE CRUST
1 1/4 cup all-purpose flour
1/2 tsp salt
1/2 cup unsalted butter (1 stick), cold and cubed
4-8 tbsp ice water
CHOCOLATE CHIP PIE:
2 large eggs, room temperature
1/2 cup all-purpose flour
3/4 cup brown sugar
1/4 cup sugar
1 tsp vanilla extract
1/4 tsp salt
3/4 cup unsalted butter, room temperature
1 cup chocolate chips