Asparagus Salad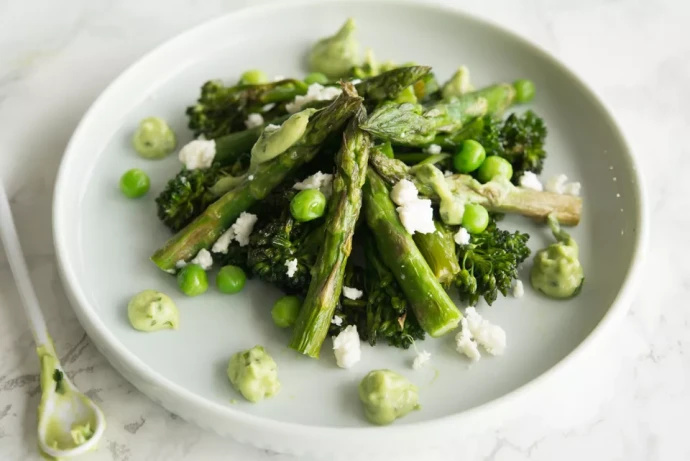 When spring shows its face after a long winter, there's so much to enjoy again, including fresh asparagus. You can buy imported asparagus year-round, but there is something exceptionally delicious about locally-grown spears.
Gather all of that springy goodness into a delicious asparagus salad, certain as the newly arrived sunshine to cheer you up. Asparagus meets broccolini and fresh peas all dressed with a tasty avocado citrus dressing and a little feta cheese for a touch of saltiness. It's quick and easy to make and delicious to eat.
Serve the salad as a side dish with roast chicken, grilled fish, or your favorite main dish. Or serve as a light lunch with a hunk of crusty bread.
Ingredients:
For the Salad:
8 ounces fresh thin asparagus spears
8 ounces broccolini
2 tablespoons extra virgin olive oil
Kosher salt (to taste)
1/2 cup fresh or frozen peas
2 ounces finely crumbled feta cheese
For the Dressing:
1 ripe avocado
2 tablespoons sour cream
2 tablespoons lime juice
1/2 cup cilantro leaves
Kosher salt (to taste)