Healthy Queso Dip With Butternut Squash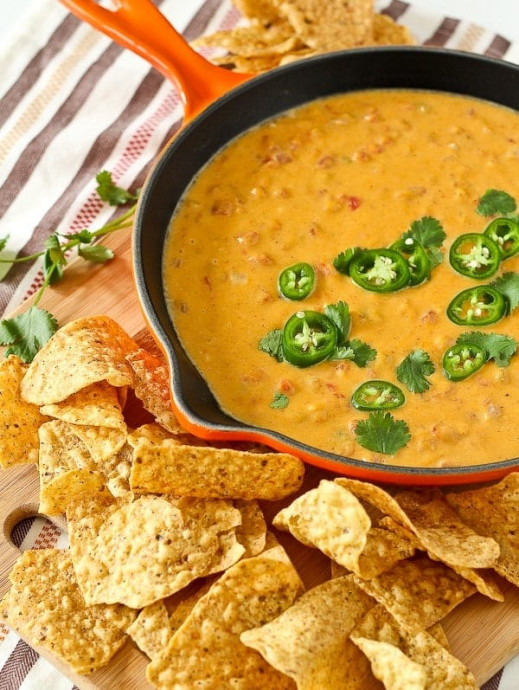 This healthy queso dip is about as healthy as you'll get when it comes to a decadent, cheesy dip. You'll love the subtle sweetness and vibrant color that the butternut squash adds. This one is a must-try! I swear, chips with any type of dip = my kryptonite. I recently made another batch of my restaurant style salsa (this time I added green chilies because I didn't have any jalapeños), and I literally cannot stop eating the stuff. It's a pretty dangerous situation. If only chips were calorie-free, you know?
And then there's queso! Talk about dangerous. Have you tried queso blanco in the slow cooker or yummy poblano queso dip? Oh man, so irresistible!
This healthy queso dip is no different. Does anybody think it's weird to add butternut squash to queso? Maybe it is weird until you find out that there's only 113 calories per 1/4 cup, it's totally delicious and not squash-y tasting at all, and then it's a happy weird! Bonus: If you have kids that don't love vegetables, I bet they'll devour this beautiful healthy queso dip without a second thought.
Ingredients:
1 teaspoon extra virgin olive oil
1/2 cup finely diced red onion (about 1/4 of a medium sized red onion)
1 clove garlic, minced
12 ounces frozen butternut squash puree
1 can (10 ounces) petite diced tomatoes and green chilies
1/2 teaspoon ground cumin
1/2 teaspoon chili powder
8 ounces Monterey Jack cheese, shredded