Herb and Garlic Roasted Red Potatoes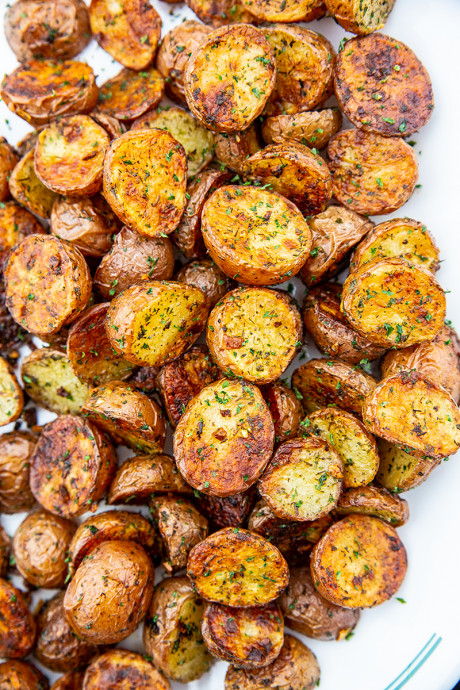 Hey, look, it's my favorite carb, but this time it's roasted red potatoes that are covered in herbs and garlic! What could be better? While I do love my salty, crispy baked potato recipe as my easy all time favorite, this is a way to cook RED potatoes that you're sure to love! I prefer to use small baby red potatoes, sometimes called creamer potatoes, as they have a great skin to flesh ratio. (that sounded weird, but use it in the context of potato skin and the flesh of the potato, not Hannibal Lector.) When you are roasting potatoes, the skin, in my humble opinion, is the best part, it absorbs the flavors and crisps up perfectly.
Use larger red potatoes when you are using a smashed potatoes recipe (I like Russet potatoes in those as well!) as they hold their shape nicely.
Red potatoes are high in moisture, low in starch are the potatoes you use when you want them to retain their shape. Red potatoes are best when you use them for: roasting, smashing, skillet frying, soups where you don't want the potato to break down
potato salads where you want the potatoes to hold their shape well! You can adjust all of the seasonings to your liking, feel free to play around with them. This is a really basic how-to!
Ingredients:
2 pounds small red potatoes cut in half
2-3 tablespoons olive oil
4 large garlic cloves minced
1 teaspoon dried dill
1 teaspoon dried parsley
1 tablespoon flaked sea salt
1/2 teaspoon black pepper