Earl Grey Cookies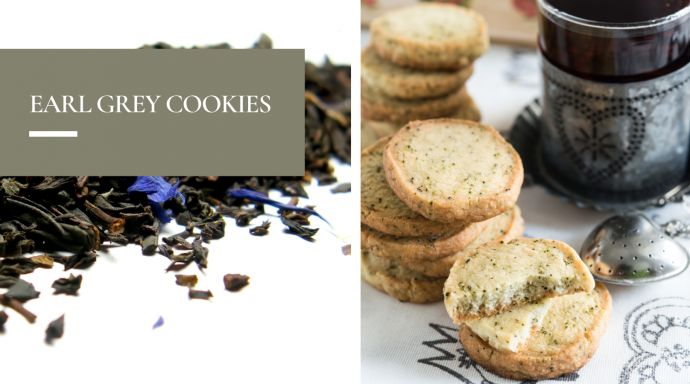 These simple Earl Grey cookies are well-seasoned, delightfully buttery with a toothsome, crumbly texture. Flecks of Earl Grey tea leaves round out the flavor, perfectly balancing the richness of butter and sugar, while the hint of bergamot melds into the butter beautifully. Try them and you'll love them!
Ingredients
8.8oz good-quality unsalted butter, softened
3/4 cup plus 2 and 1/3 teaspoons icing sugar/powdered sugar
2 cups plain/all-purpose flour (or cake flour)
3 tbsp and 1/2 tsp cornflour
2 tsp good-quality Earl Grey tea. Get a good-quality tea, so when you open the tea bag and sniff you can smell the citrus bergamot.
1/2 tsp baking powder
pinch fine sea salt, to taste
Directions
Step 1
Cream the softened butter in a large bowl then whisk in the icing sugar little by little until light and fluffy.
Step 2
In a separate smaller bowl whisk the flour, cornflour, tea powder from your two Earl Grey tea bags (just cut the bags and add), baking powder and salt to combine.
Step 3
Then with a rubber spatula or large silicone spoon stir the flour mixture into the butter and sugar to make a dough. Do not overmix.
Step 4
Chill in the fridge 5-10 minutes (in the bowl) if necessary. Make sure it doesn't get too firm or it will be difficult to pipe! If the dough's very stiff you can just make balls and flatten them a bit.
Step 5
If your mixture's soft enough fill a disposable piping bag and swirl rosettes on your prepared baking tray. Around 1 to 1.5 inches is a nice size. They spread out in the oven so keep some space between them.
Step 6
Chill in the fridge 20 minutes. Preheat your oven to 340 °F.
Step 7
Bake in the middle of the oven (one tray at a time if you have 2) for 9 to 14 minutes, depending on your oven. I like them a little golden around the edges (some like theirs very pale). They'll be soft when they come out so let them cool 5 minutes on the tray then take off the tray and place on a wire rack to cool completely.
Bon Appétit!
Wishing you a lovely day! Happy baking!