Easy Caprese Salad With Pesto Vinaigrette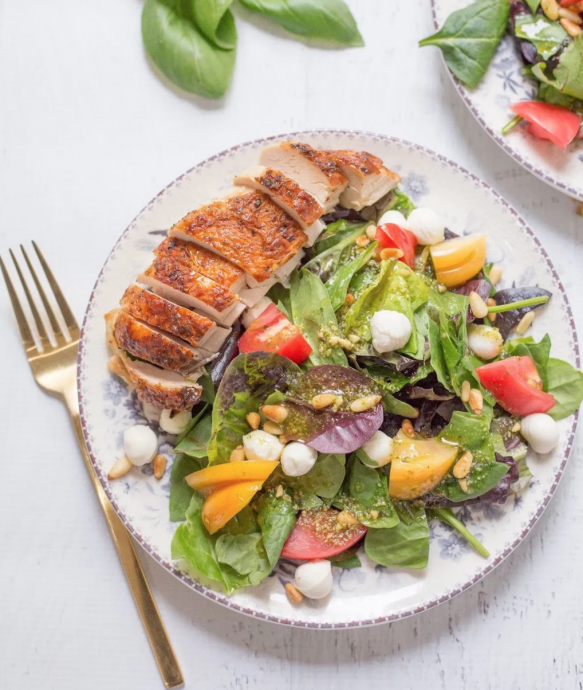 This easy caprese salad with pesto vinaigrette is delicious, healthy, oh so pretty and takes minutes to assemble… no cooking required! This recipe includes the classic caprese ingredients: basil, heirloom tomatoes and fresh mozzarella, but i add baby greens to turn it into a green salad. Beautiful isn't it? And once again you can use the ever convenient rotisserie chicken to keep it simple. This dressing is so simple: whisk together olive oil, white balsamic or champagne vinegar, and store bought pesto. Yup, that's it, three ingredients! You can usually find o California white balsamic and champagne vinegar the grocery store.
Now if you want to make your own pesto, far be it from me to discourage you. Find my recipe here. Need more ideas for what to do with that leftover pesto? Click here for pasta, here for pizza and here for grilled cheese! Lovely, simple, healthy and delicious!
It doesn't get better than this…and clean up is a cinch! No pots or pans to wash. Perfection!
Ingredients:
Salad Dressing:
3 Tablespoons organic extra virgin olive oil
3 Tablespoons store bought or homemade basil pesto (see my recipe linked above in blog post)
1 1/2 tablespoons white balsamic or Champagne vinegar
Salad:
5 ounces organic baby greens
2 large heirloom tomatoes, sliced (we use 1 yellow and 1 red)
1 cup fresh mozzarella packed in water, we used the kind that comes in little ovals but you could also cut it into cubes
2 Tablespoons toasted pine nuts
sea salt and pepper to taste
(optional) rotisserie chicken