Cottage Cheese Pancakes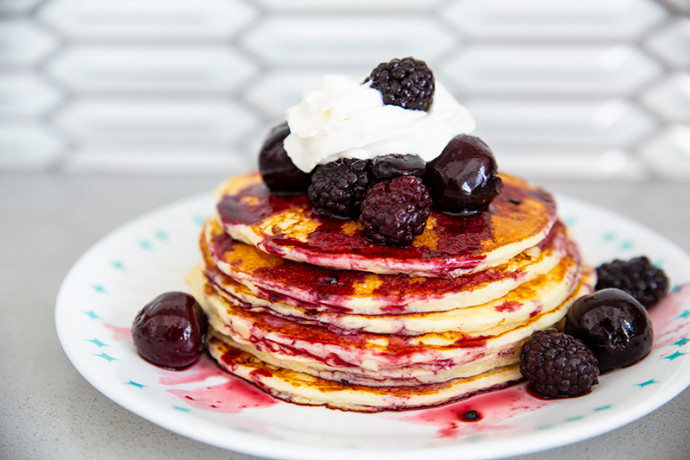 Cottage cheese pancakes are for the lovers of tangy baked goods that are paired with sweet fruits or syrup. These pancakes are packed with protein thanks to a cup of cottage cheese and three eggs! These are so good paired with berries and whipped cream!
Since these are a tangier than classic pancakes, sour taste (think buttermilk), they pair fabulously with fruit and syrup! While they are fine with just a syrup, the fruit we added really made them perfect. You can also serve them more savory with an egg on top and some bacon or slather them with jam (this is a popular choice).
Another note, these are FLAT pancakes! That is the entire batch of the pancakes in the photo above, all 6 stacked in one pile! They are closer to a crepe, or a blintz, with a little more substance to them than normal pancakes and definitely denser. The texture is also more eggy (there are 3 eggs in this tiny batch) than normal pancakes but that means they are lower in carbs than normal pancakes.
Ingredients:
1 cup cottage cheese
1/3 cup all-purpose flour
1/2 teaspoon baking powder
2 tablespoons melted butter
1/2 tablespoon white sugar
3 large eggs lightly beaten
1/2 teaspoon vanilla extract