Vegetarian Steamed Dumplings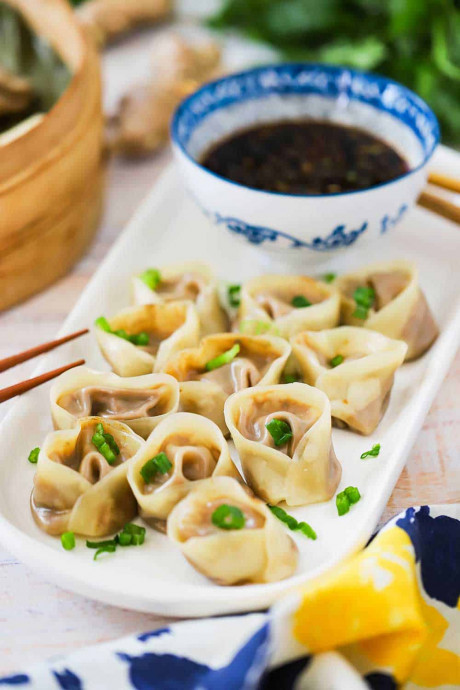 Dumplings are one of our most favorite items to order of all time. We love our Pork Dumplings in Peanut Sauce and our Chinese Pot Stickers, too! And these vegetarian dumplings are just as delicious but much healthier! And the Hot and Sweet Dipping Sauce is the perfect accompaniment! Dumplings have been around for many, many years. In fact, they're considered an ancient food.
The filling for this steamed dumpling recipe is loaded with tons of flavor. You may be asking what are the steamed dumpling calories. Well, they are definitely lower than meat dumplings or pan-fried, or deep-fried. One serving is usually about 3 to 4 dumplings and is approximately 288 calories, plus another few for the dipping sauce (it's super low-cal!). We use our food processor to bring the filling together. We also love using fresh shiitake mushrooms, but you could use other types, too. If using dried mushrooms, be sure to follow package instructions for rehydrating them. And definitely go with firm tofu. Dark soy sauce can be found in the Asian section of many supermarkets, Asian markets, or online. In a pinch, regular soy sauce can be substituted for dark soy sauce. Tamari soy sauce is another suitable substitution. There is just something magical about lifting that lid after the steaming process is complete.
These dumplings are low in calories but through-the-roof in taste and texture. We often make a big batch of them and then have them for a meal. Of course, they are wonderful as an appetizer for a glorious Chinese dish, such as General Tso's Chicken or Beef and Broccoli Stir-Fry!
Ingredients:
1 package banana leaves frozen or fresh, parchment paper
1 package dumpling wrappers or wonton wrappers
FOR THE FILLING
2 cups shiitake mushrooms fresh, stems removed, roughly chopped, about 5.5 oz.
1 cup tofu medium-firm, cut into cubes, about 7 oz.
¼ cup vegetable broth
1 tbsp ginger fresh, minced
3 cloves garlic diced
3 tbsp soy sauce
1 tbsp dark soy sauce
2 tbsp sesame oil
2 scallions thinly sliced, plus extra for garnish
¼ cup cilantro chopped
1 tbsp coriander ground
¼ tsp white pepper
1 tsp chili sauce more, for added spice
1 cup Hot and Sweet Dipping Sauce for serving