Awesome Crispy Chicken with Sweet Tomatoes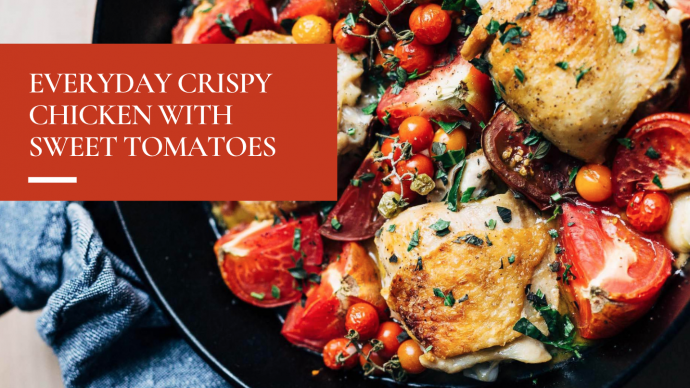 A very simple recipe for the crispy chicken with tomatoes, garlic, and fresh herbs. Chicken breasts or thighs are seared until crispy and golden, and baked up with tomatoes and garlic. This recipe takes minutes to put together but then requires slow, gentle cooking. However, in return for your patience, this chicken recipe is an absolute joy and never fails, so it's a good one to serve if you have guests. Enjoy!
Ingredients
1 red pepper cut into 2 inch pieces
1 yellow pepper cut into 2 inch pieces
1 red onion cut into eighths
2 cups cherry tomatoes
1/2 cup artichoke hearts
1 lemon
2 large chicken breasts, cut in half or 4 chicken thighs
2 cloves garlic crushed
1/4 cup olive oil
1 1/2 tbsp balsamic vinegar
1/2 tsp smoked paprika
1 tsp dried oregano
1/4 tsp salt
1/2 tsp pepper
2 tbsp chopped fresh basil
2/3 cup olives
1/4 cup chopped feta
Directions
Step 1
Preheat the oven to 390°F.
Step 2
In a large baking sheet or roasting tray, add the chopped peppers, red onion slices, artichoke hearts, lemon wedges and tomatoes.
Step 3
In a bowl whisk together the garlic, olive oil, vinegar, paprika and oregano. Pour 1/3 of the sauce over the veggies, sprinkle with salt and pepper and toss until well coated. Place the chicken pieces on top of the veggies and brush sauce. Bake in the oven for 25 minutes.
Step 4
After 25 minutes, add in the feta, chopped basil and olives. Pour the remaining sauce over the tray and return to the oven to bake for another 5-10 minutes. Check the chicken to ensure it's no longer pink. Sprinkle with basil and serve.
Step 5
Add some sliced new potatoes to the pan and cook them with the chicken, or serve the chicken with some simple mashed potato. Squeeze the garlic out of the skins before serving. You could even make it part of a pasta dish – remove the chicken from the bone and shred it, then toss into a bowl of linguine or spaghetti and serve at once.
Bon Appetit!