Chocolate Pudding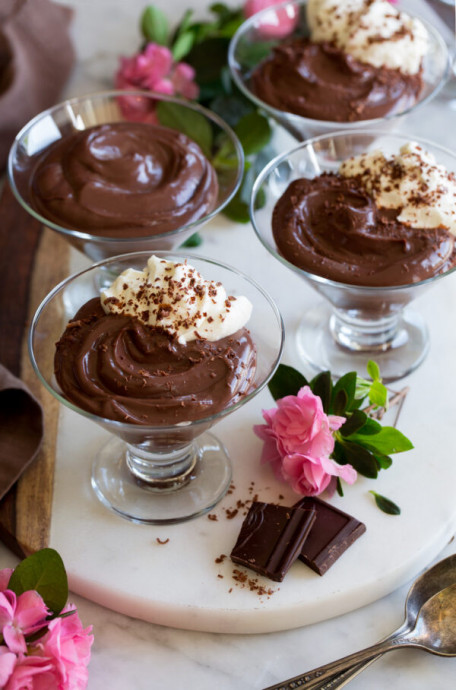 Homemade Chocolate Pudding – this nostalgic dessert is supremely chocolatey, deliciously decadent, and lusciously creamy, with a silky smooth melt-in-your-mouth consistency. All the things you'd want in a perfect pudding and then some! I think pudding can have a bad reputation. Because when we think of pudding many of us instantly think of the shelf stable singles highly lacking in flavor that are filled with artificial flavor and preservatives. This freshly made pudding is a thousand times better!
And the method to making it is incredibly easy. Just whisk the ingredients, simmer over the stovetop, (strain if you are picky and like it lump-free like me), then mix in the chopped chocolate at the end.
From there the hardest part is waiting for it to chill in the fridge to fully thicken (which also makes it nicely cold and refreshing). It's the perfect dessert year round but especially during hot summer days.
Spoon finished pudding into pretty glasses or cups, finish each with a billowy mound of airy whipped cream, and fine shavings of dark chocolate. Here you'll have an elegant dessert that's destined to impress anyone. I think this is even worthy of being deemed as the best pudding recipe! It's definitely the favorite around here, we just can't get enough of it! Homemade pudding should always be stored in the fridge for food safety. It shouldn't sit at room temperature for more than 1 hour (but remember it's best cold). It will keep about 3 – 4 days in an airtight container in the refrigerator (but chances are it will be gone much before then, it's dangerously delicious!).
Ingredients:
1/2 cup (100 g) granulated sugar
1/4 cup (24 g) Dutch process cocoa powder (sift if clumpy)
2 Tbsp (18 g) cornstarch
1/4 tsp salt
2 1/2 cups (590 ml) whole milk
3 large egg yolks
3 oz. semi-sweet chocolate, finely chopped
2 Tbsp (28 g) unsalted butter, cut into 1 Tbsp pieces
2 tsp vanilla extract
Topping (optional)
1/2 cup (120 ml) heavy cream, for serving
1 Tbsp (12 g) granulated sugar