Maple Glazed Breakfast Sausage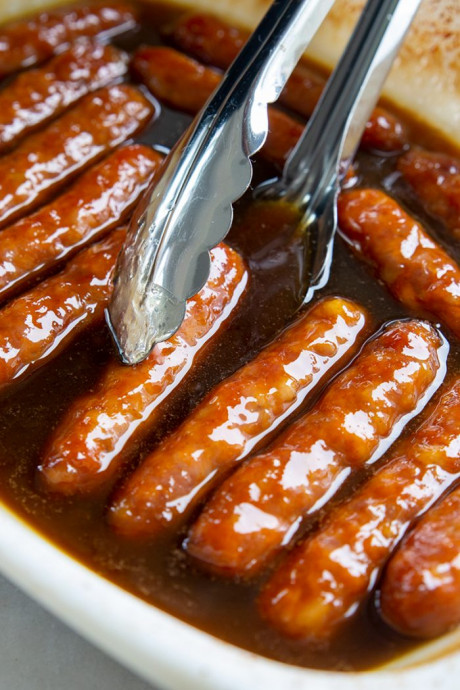 Pork sausages are simmered in a buttery sweet maple syrup sauce then served piping hot with that delicious glaze - perfect for paring with pancakes or French toast! Use the sauce that the sausages cook in as your syrup if you make pancakes or waffles. This recipe literally came about this morning when I went to cook some pork breakfast sausages and wanted to spice them up a little. I started brainstorming and a memory just hit me: I could see those large aluminum pans of breakfast sausage out on the picnic tables when I was camping as a Girl Guide – and I remember how much we all loved those first thing in the morning! Now I'm sure that they used "maple" flavored pancake syrup because those sausages were swimming in syrup and real maple syrup is expensive. However we are cooking these breakfast sausages in a small batch for a family, so we can splurge on real maple syrup. This is the adult version of what we ate camping as kids.
This is so easy you could prep this the night before (on a holiday for example) and leave it in the fridge. The butter would harden, but you are popping it into the oven to bake anyways! Some tips: Add in cinnamon to taste ( start with 1/8 tsp) and some nutmeg if desired. You have to love those spices with pork otherwise don't add them! Maple syrup is making anything some red pepper flakes better! Sweet heat is the best! Use the syrup that the sausages cook in as a real syrup on your pancakes – it's the best of all worlds!
Ingredients:
1-2 pounds uncooked pork breakfast sausages
1 cup maple syrup
1/3 cup brown sugar
2 tablespoons salted butter
pinch cinnamon, nutmeg optional