Bacon Wrapped Grilled Filet Mignon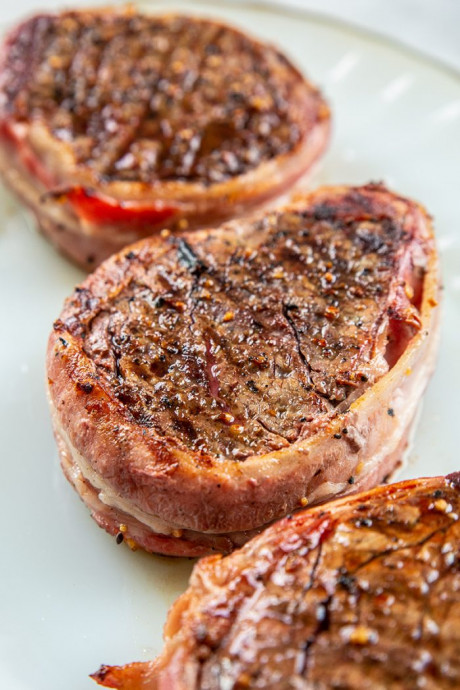 Skip the restaurant and make your own filet mignon at home! This filet mignon recipe is a steakhouse menu classic, but save your dollars and grill these at home, to your exact liking. The 90's called and want their steak back, but let's be honest, this is a timeless steak classic that's perfect for a special occasion.
These tenderloin steaks paired with a Caesar salad or even a Greek pasta salad for the perfect easy dinner! These are commonly called tenderloin steaks, which in essence they are. However beef tenderloin is the larger, longer beef roast and the steaks are the "filets" of the larger tenderloin roast, usually cun into 2 – 2/12 inch thick steaks as shown. Thus called filet mignon. I have another bacon wrapped beef tenderloin recipe that has a cream mushroom sauce, ( sooo good!) but this time I wanted a fast, delicious and no fuss filet mignon recipe that anyone can make.
Ingredients:
four 8 ounces filet mignon (beef tenderloin steaks)
4 pieces thin cut bacon
1-2 tablespoons Montreal steak spice