Italian Almond Cookies (Ricciarelli)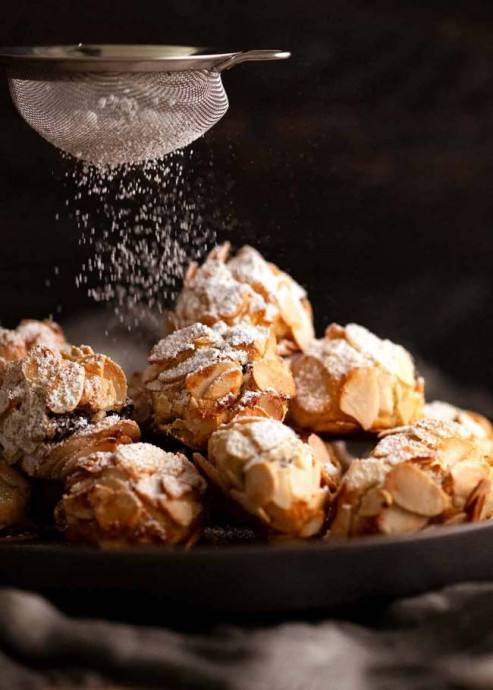 Called Ricciarelli, these Italian Almond Cookies are chewy on the inside, filled with wonderful almond flavour and studded with dried cherries. They keep for 10 days, and because they're gluten free and dairy free, everybody can enjoy them!
These lovely little Italian cookies have a beautiful chewy texture and bursting with almond flavour. And because they're gluten free and dairy free, everyone can enjoy them!
The almond sliver coating is something I copied from an Italian bakery in Sydney. It gives the cookie a great textural finish and makes it less fragile. Without it, you need to handle the cookie with care, and to me it feels less like a cookie because the crust is quite soft.
These cookies are traditionally studded with dried cherries but other similar dried fruit will work in a pinch eg cranberries, or even raisins. These are cookies that are meant to be perfectly imperfect – to look at. But they're perfectly perfect – to eat!!! These cookies are terrific for taking to gatherings because it seems inevitable these days that there will be at least one person who is gluten free.
But dietary requirements aside, these cookies keep really well for up to 10 days in a super airtight container which is another reason they are so great. Especially if you opt to do the (not really optional!) coating of almond flakes because it keeps the outside nice and crisp. Whereas without, the crust tends to get softer with time.
Ingredients:
2 cups almond meal or blanched ground almonds (Note 1)
1/2 cup caster / superfine sugar
2 tsp lemon zest (1 lemon)
3 drops natural almond extract
1/8 tsp salt
1/2 cup dried cherries , chopped
2 egg whites , at room temperature (from 2 large eggs, Note 4)
2 tsp honey
ALMOND COATING
1 Extra egg white
1 1/2 cups flaked almonds