5-Minute Cheddar Cheese Popcorn (Using Real Cheddar)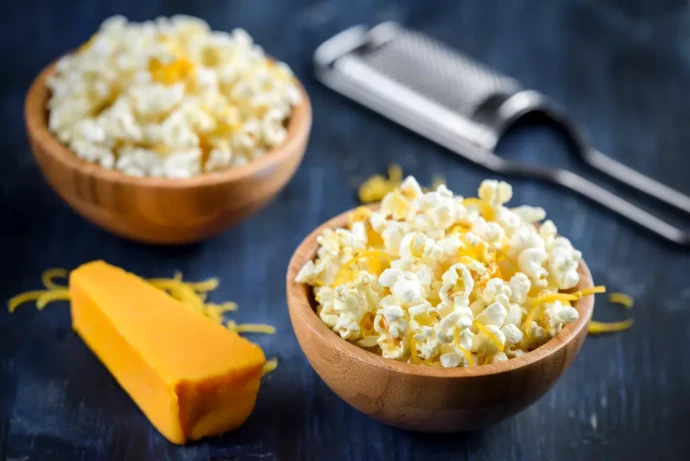 This cheese popcorn recipe uses real cheese for a savory, buttery popcorn the whole family will love—and it only takes a few minutes to make. All you need are a few key ingredients before you'll be in cheesy popcorn heaven.
To save time, this recipe for cheese popcorn uses microwave popcorn. If you want to skip the microwave-popped corn, then feel free to use a recipe for stovetop popcorn or an air popper, if you have one of those. The recipe uses also uses cheddar cheese and, of course, butter. (The butter helps the cheese stick to the popcorn.)
Popcorn is a bit of a blank slate, so feel free to add some variety. This recipe can also be modified and made with grated Parmesan. You can also opt to include other toppings, such as Spanish smoked paprika, garlic powder, cayenne powder, curry powder, chili pepper, or even cumin. Get creative with spices and herbs to customize it exactly how you like.
In fact, if you were to add a sprinkle of nutritional yeast, garlic powder, onion powder, cumin, paprika, chili pepper, cayenne, and salt to this cheddar cheese popcorn recipe, you get a flavor very close to Doritos —without the negative aspects of eating a synthetic processed food.
Ingredients:
1 full-size bag microwave popcorn (alternatively, you can use 1/2 cup of whole kernels on the stove to make your popcorn)
1/4 cup grated cheddar cheese
6 tablespoons butter, melted