Crispy German Pork Knuckle (Schweinshaxe) with Beer Gravy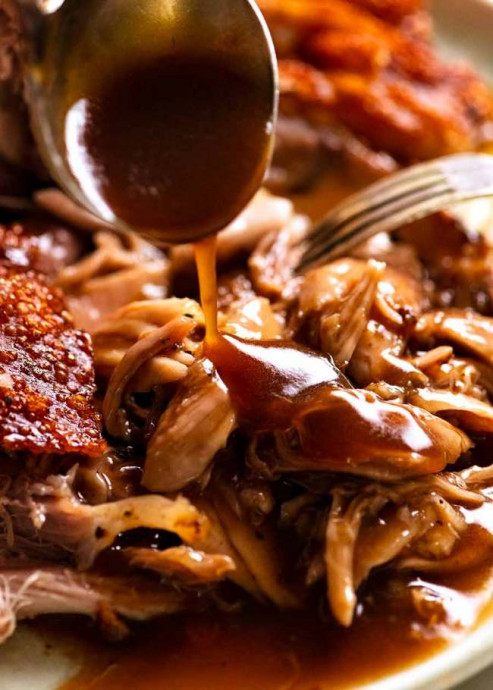 A hunk of impossibly tender, juicy pork meat on the bone, all wrapped in crispy crackling skin, you say? Be still my beating heart! Called Schweinshaxe, this slow-roasted German Pork Knuckle comes with a richly-flavoured beer gravy. Of the many things Germans have perfected, pork roast is right up there. And key to this meaty art is of course amazing crackling, something most recipes fall short on with Pork Knuckle … but we cracked the code! While producing tender Pork Knuckle flesh is straightforward enough, very few recipes truly nail the crispy crackling. So here is a recipe that finally does! The skin is crispy all over and fabulously bubbly, shattering into a thousand porky shards when you bite instead of breaking your teeth on hard, leathery patches!
Meanwhile, the flesh is seasoned with traditional flavourings and the Pork Knuckle is served with an authentic, dark and malty German beer gravy. It's every carnivore's dream come true!
Traditionally, Pork Knuckle is often served with a hefty German potato dumpling or two. The sticky balls make the perfect stodgy vehicle (in a good way!) for mopping up that delicious gravy! On the side, you might have some sauerkraut or a slaw-like cabbage salad (similar to this one, which would make a lovely side here). Potato dumplings are beyond our scope for today, so later this week instead I will be sharing I've shared a German Potato Salad to go with the Pork Knuckle, as well as a refreshing sour cream and dill German Cucumber Salad that will be perfect to cut through all the sticky richness of the Pork Knuckle.
Ingredients:
1 x 1.25kg / 2.5lb pork knuckle
2 tbsp white vinegar (Note 2)
3 garlic cloves , cut into 4 – 6 slivers
MARINADE RUB:
2 tsp salt , kosher / cooking salt NOT table salt
1 tsp black pepper
1 tsp juniper berries
1 tsp caraway seeds
1 tsp fennel seeds
BEER GRAVY:
2 cups dark German beer
2 cups chicken stock / broth , low sodium
1 carrot , unpeeled, sliced 2cm / 0.8″ thick
1 onion , unpeeled, halved, cut into 1.25cm / 1/2″ thick slices
1 head garlic , cut in two halves horizontally
5 juniper berries
2 bay leaves , preferably fresh otherwise dried
GRAVY THICKENING AND SEASONING:
2 tsp cornflour/cornstarch
1/2 cup water
1 tsp white sugar
1/4 – 1/2 tsp salt