Italian Chicken and Prosciutto Pasta Skillet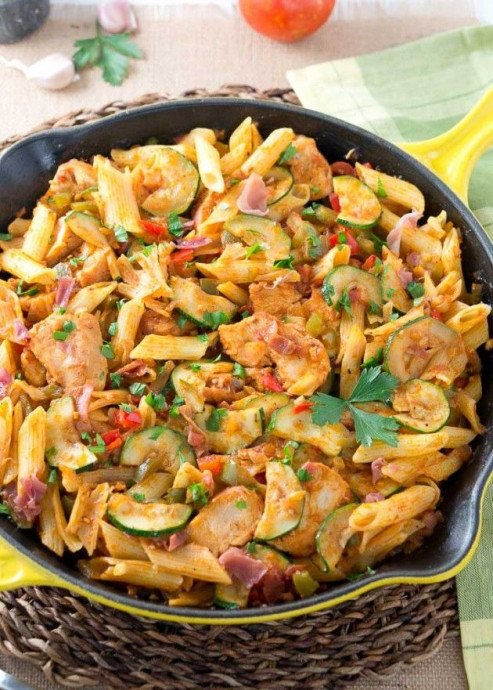 Italian Chicken and Prosciutto Pasta Skillet – a delicious recipe that perfectly combines all the flavors: prosciutto, chicken, pasta, peppers, zucchini and flavorful thick and hearty roasted garlic tomato sauce!
This pasta recipe is true comfort food! It absorbs all the wonderful flavors in the dish, and with every bite, you taste all the delicious and flavorful ingredients.
By combining our love for Italian food, I was able to create a delicious recipe to add to our family dinner traditions for years to come and I can't wait to share it with you all. It's easy, comforting and ready in about 30 minutes. I am loving all these quick and easy comfort recipes. And with an easy shortcut, this recipe is a great addition to your weekly meal plan. You have probably seen several other Ragu recipes on the blog if you have been following my culinary adventures. That is because I am a huge fan of their Homestyle sauces. They are healthy, and so flavorful, and make every meal taste amazing! Their sauces are definitely a staple in my pantry.
Ingredients:
2 chicken breasts
1 tsp garlic powder
1 tsp paprika
salt and pepper, to taste
1 tsp Italian seasoning
1.5 cups uncooked Gluten-Free Penne pasta
2 Tbsp olive oil
1 green bell pepper, chopped
1 red bell pepper, chopped
1 medium onion, chopped
2 cloves garlic, minced
1 medium zucchini, sliced (about 1.5 cups)
½ cup chicken broth
1 cup Ragu tomato sauce
3-4 slices prosciutto, chopped