Spicy Chickpeas lettuce wraps with cilantro Jalapeno sauce (Vegan Option)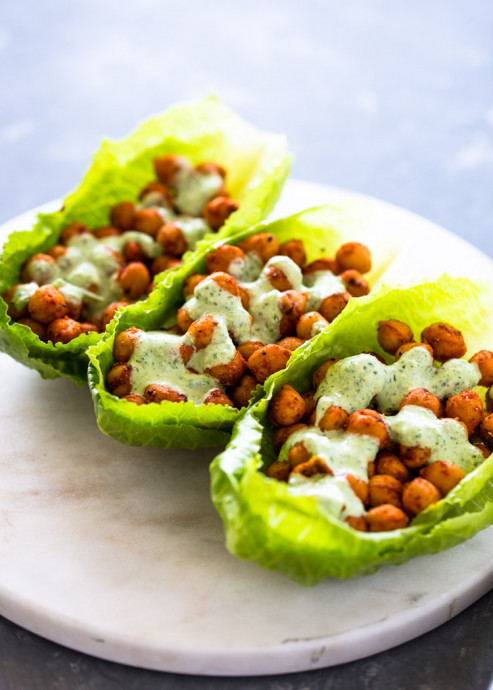 Lettuce wraps filled with spicy chickpeas and topped with a creamy cilantro sauce. These quick and flavorful lettuce wraps make a nutritious fiber packed meatless lunch or dinner in minutes! Chickpeas are super filling and delicious and make a delicious meat replacement. Lately, I've been making these spicy crispy chickpeas and adding them to my salads, pizza and just about anything else!
They are cooked on the stove-top and are ready in just 5 minutes! Today we're turning this hidden gem into a filling flavor-packed lunch. To begin you will need canned chickpeas. I do not suggest using dry chickpeas because they take very long to cook but if you must, I suggest cooking them in the pressure cooker. The next step is to simply drain the chickpeas and combine them with the spice blend and pan "fry" for 3-5 minutes or until the chickpeas are browned and crispy.
Next, pack the crispy spicy chickpeas into romaine lettuce leaves or tortilla bread and fill with your favorite toppings. Tomatoes, onion, avocado, cucumber, olives, and thinly sliced carrots are all delicious additions and will add flavor and texture. The final step is to whip up the creamy jalapeno cilantro sauce, generously drizzle it on the wraps and enjoy!
Ingredients:
2 15 oz can chickpeas garbanzo beans, about 2 cups
1 tablespoon olive oil
1 teaspoon or paprika
1 teaspoon ground cumin
1/2 tsp
salt and freshly ground black pepper to taste
6-8 romaine lettuce leaves
Diced onion, tomato, avocado, cucumber for topping optional
For the cilantro jalapeno sauce
1/2 cup yogurt sour-cream or mayonnaise*
¼ cup fresh cilantro include the cilantro stems
1 jalapeño
1 clove garlic
1 tbsp fresh lime juice
1 tbsp avocado oil
¼ tsp sea salt
1/4 tsp freshly ground black pepper