Pistachio Cake with Strawberries & Cream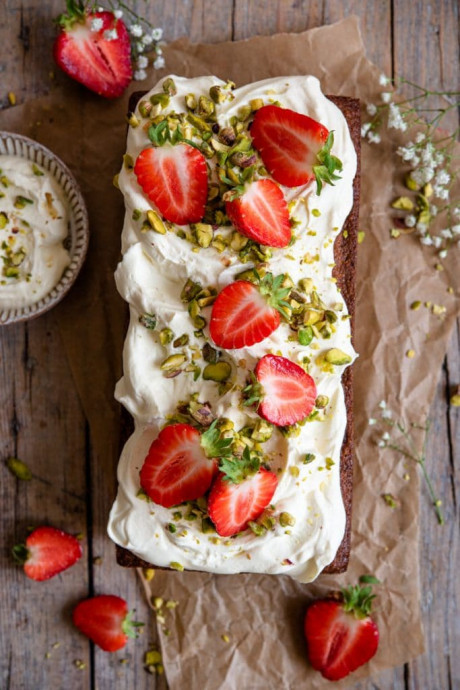 A beautiful and impressive Pistachio Cake that's whipped up using a food processor in under 10 minutes! Yup, this thing of beauty is made with real pistachios and no artificial flavours or colouring. Topped with fresh whipped cream and juicy, ripe strawberries it's pretty hard to resist and perfect for any occasion!
It's got nutty pistachios crushed up all through the batter giving the cake the most delicious flavour that's not too sweet (hello cake for breakfast!). If you have a serious sweet tooth and prefer super sweet desserts than you can easily adapt the topping. To make this pistachio cake you'll need softened butter so if you don't want to wait around for it to come to room temperature (or you forgot to bring it out of the fridge). I love to top this pistachio cake with fresh whipped cream, fresh cut strawberries and some more chopped pistachios. The colors are beautiful and the cream is fresh and simple.
Ingredients:
7 oz (14 tbsp) softened butter (200g)
1 ½ cups self-raising flour (200g)
½ cup buttermilk (130g)
1 cup shelled pistachios (100g)
1 ¼ cups golden caster sugar (200g)
1 tsp baking soda (bicarb)
3 large eggs (free range)
Zest of 1 lemon
¼ tsp vanilla paste
Topping
1 cup heavy cream or double cream (250ml)
4-5 strawberries cut in half
1-2 tbsp pistachios roughly chopped