Chile Lime Salmon with Mango Avocado Salsa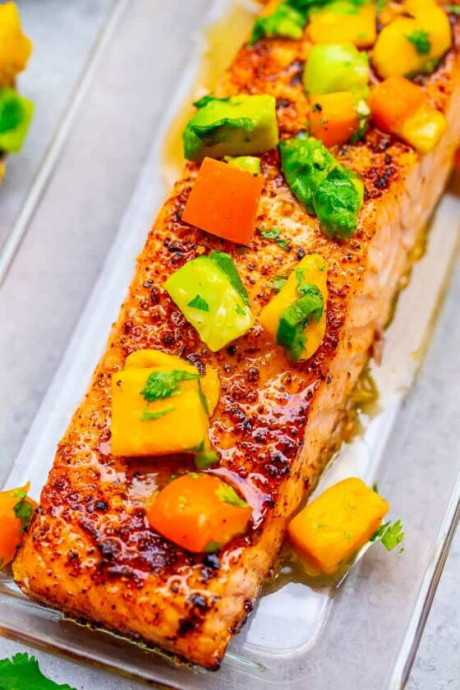 Mango salsa salmon — tender and incredible salmon with mango salsa that's bursting with mexican flavors to complement the fish!! So easy and ready in 15 minutes! This mango salsa salmon recipe is perfect for busy weeknight dinners and since the salmon is made on one sheet pan, it makes clean up a breeze. The recipe is also delicious and fancy-looking yet fuss-free so you can serve it when you're entertaining. Make the mango avocado salsa in advance, pop the salmon under the broiler, and dinner is ready in a flash.We adored this salmon recipe and even though it may be a bit more of a summery-feeling recipe, I wouldn't mind this any time of year. It would be a nice treat on a cold winter day that would put me in a Mexican vacation mindset. The Tajin, which is a blend of various chiles and lime flavoring, along with the actual lime juice, and the touch of honey helps give this salmon tons of flavor and keeps it extremely moist and tender.
It's lightly crisped on the outside but I like to cook my salmon on the rare side because the soft and tender center is where it's at for me. The contrast of the exterior versus the interior of the salmon is great. Along with the salsa, it's a match made in heaven. The warm broiled salmon, the cool mango and other vegetables in the salsa (I use produce that's already been in the fridge and is chilled), all those texture and temperature contrasts are phenomenal and make this dish extra good. I have to say this is one of the best salmon recipes I have made in a long time and definitely within my top 5 of all time. Everything just worked perfectly. To make the mango avocado salsa, simply combine all the ingredients in a large bowl. If you made your mango salsa a bit spicier than you wanted it to be, adding some honey will mellow and marry the flavors.
Ingredients:
Salmon
four 8-ounce skin-on salmon filets (better if they are thicker center cuts rather than thinner but use what's available)
3 to 4 tablespoons olive oil, divided
4 teaspoons Tajin seasoning or similar chile seasoning/powder (something with a slight kick), divided; or to taste
1 1/2 teaspoons kosher salt, divided; or to taste
1 1/2 teaspoons freshly ground black pepper, divided, or to taste
3 to 4 tablespoons lime juice, divided
1 to 2 tablespoon honey, divided; optional and to taste
Mango Avocado Salsa
1 large ripe juicy mango, peeled and diced small
1 large orange bell pepper, seeded and diced small (another color bell pepper may be substituted)
1 medium/large cucumber, peeled and diced small
1/3 cup fresh cilantro, finely minced; or to taste
1 or 2 jalapeno or serrano chile peppers; optional and to taste (see NOTE 2 below)
1/4 cup lime juice
1+ teaspoons kosher salt, or to taste
1 medium/large ripe Hass avocado, peeled and cubed
1 to 2 tablespoons honey, optional and to taste