Strawberry Poppy Seed Salad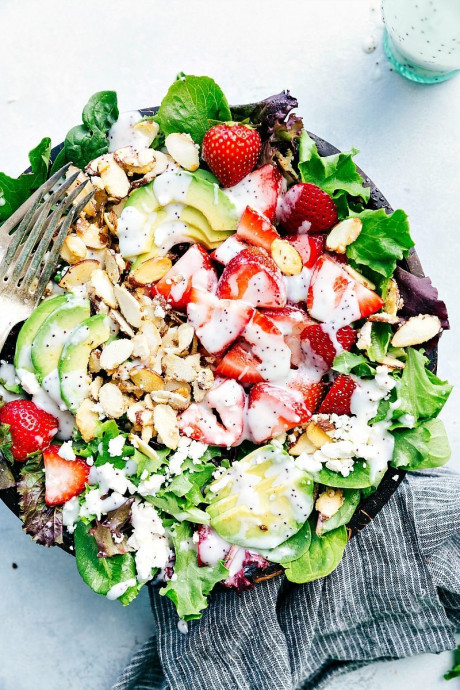 A show-stopping simple Strawberry Poppy Seed Salad with fruity sweet strawberries, creamy avocado, crunchy candied almonds, and tangy feta cheese. The poppy seed dressing is the absolute best and takes only minutes to whip together. This is one of my all-time favorite salad recipes! It has the perfect blend of flavors and textures — creamy, sweet, and crunchy.
Strawberry Poppy Seed Salad has a medley of fruit, chicken, nuts, and a poppy seed dressing. For this recipe, we've got the strawberries, the nuts, and the poppy seed dressing, but I replaced the other fruits with avocado and some feta cheese. The avocado lends an incredible creaminess that works so well with the crispness of the nuts and strawberries. And the feta cheese ties everything together so nicely. While the poppy seed dressing does have a good amount of mayo and sugar in it, it also boasts some positive effects when enjoyed in moderation. There are many health benefits to consuming poppy seeds as well as apple cider vinegar. And despite the drawbacks, if poppy seed dressing gets you to eat lots of healthful ingredients (like lettuce, avocado, nuts, and strawberries), it's a great dressing to enjoy on occasion. And after all, you're not going to be consuming that much of it!
Due to all the juicy ingredients, this salad doesn't sit or store well after it's made. Once assembled, the salad needs to be eaten soon after; otherwise the poppy seed dressing wilts the greens, the avocado will brown, and almonds will soften–not a pretty sight.
To make parts of this salad in advance: Prepare the dressing ahead of time and store in a mason jar in the fridge. Prepare the candied almonds in advance and store in an airtight container in a dry area. I wouldn't recommend preparing any other parts of this salad in advance.
Ingredients:
Stovetop Candied Almonds
1 cup (95g) sliced or slivered almonds
1/4 cup + 2 tablespoons (80g) white granulated sugar
Creamy Poppyseed Dressing
1/3 cup (72g) full fat mayonnaise (I recommend Best Foods/Hellmans)
2 tablespoons EACH: whole milk, heavy cream, white granulated sugar
1 tablespoon apple cider vinegar
1/2 teaspoon lemon zest
pinch of salt and pepper
1/2 tablespoon poppy seeds
Salad
8 cups (140g; 5 oz) baby spinach or mixed greens
2 cups (275g) strawberries, stems removed and sliced
1 ripe large avocado diced (or 2 small avocados)
1/3 cup (45g) crumbled feta cheese