Bacon Wrapped Pineapple Bites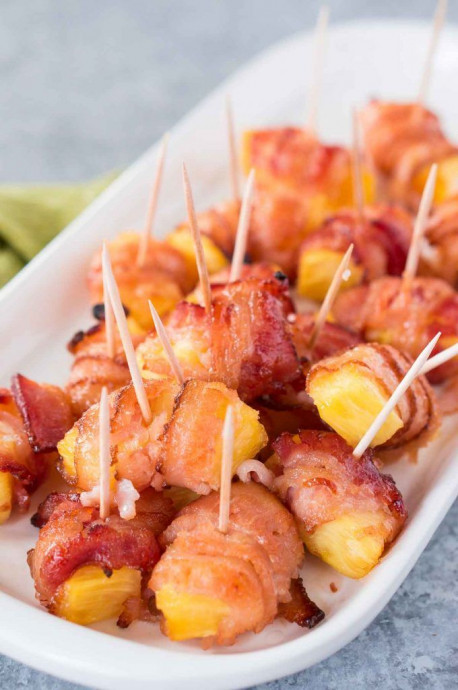 Bacon-wrapped pineapple bites are a quick and easy appetizer – juicy, sweet and savory finger food. They are the perfect festive holiday appetizer. If you are looking for something easy and flavorful to serve at your next holiday party, these sweet and savory bacon pineapple bites are it. You need only 3 ingredients – pineapple, bacon, and optionally brown sugar. You can omit the sugar if you want to make them healthier, they will still turn out fantastic. I love the combination of the crispy savory bacon wrapped around the sweet baked pineapple. So much flavor, they turned out incredible!
This pineapple appetizer is perfect for serving at parties or get-togethers because you can do all the prep work in advance and bake right before your event. Leftovers (if any) will also keep in the refrigerator for a couple of days.
Use fresh pineapple rather than canned if possible. Nothing beats the delicious sweet flavor of fresh pineapple.
Roll the bacon bites in coconut (or brown) sugar to make them even more delicious, irresistible and crispy.
Place the wrapped bacon pineapple bites on a wire rack in the baking sheet. This helps with air circulate around and helps them bake and crisp up from all sides.
Let the bacon pineapple bites rest for 5 minutes so the bacon can crisp up a little bit more.
Ingredients:
12 bacon slices, cut in half
24 pineapple chunks
1/2 cup brown sugar, (or coconut sugar), optional