Creamy Grape Fruit Salad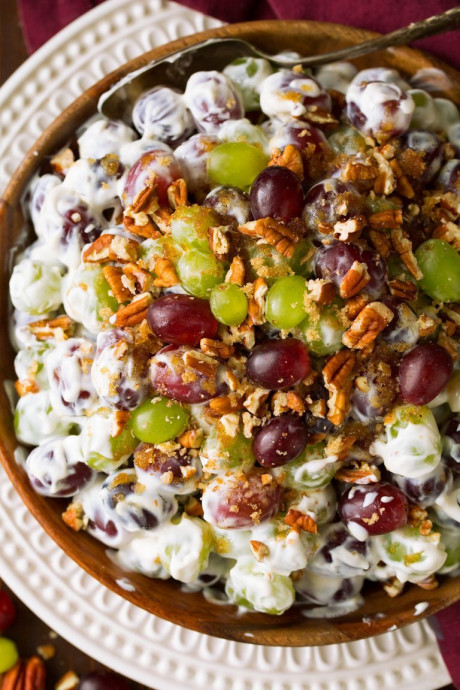 Grape Salad tossed with a sweet and creamy light cream cheese dressing, and paired with crunchy pecans for contrast! This is one of those simple satisfying sides that people love at cookouts. It uses basic ingredients yet produces incredibly delicious results! The classic version of this salad calls for cream cheese and sour cream but to make it a little lighter I like to use Neufchatel cheese and light sour cream.
I also like to decrease the amount of sugar added (some similar recipes call for 4 times the sugar) but I like the sweetness to come from the fruit, no need to have them swimming in sugar for a fruit salad. Let's save that for cake :). I also swapped out some of the sugar for honey.
And usually it's listed to use equal parts red and green grapes but I definitely like red better so I use 2/3 to 1/3 (and be sure not to use sour green grapes – I hate when I get a batch of those).
And of course I like to add a fair amount of nuts because I love the crunch and flavor they add to this fruit salad. Make it for yourself and you'll see what I mean! All those sweet juicy grapes, along with some crunchy pecans for contrast, all paired with luscious dressing to finish it off. And when served nice and cold it's amazingly refreshing on a hot summer day. Add it to your menu this weekend, and definitely save the recipe for upcoming get togethers and holidays!
Ingredients:
2 lbs seedless red grapes, washed and dried well
1 lb seedless green grapes, washed and dried well
6 oz. Neufchatel cheese (AKA 1/3 less fat cream cheese)
2/3 cup light sour cream
2 Tbsp honey
1 1/2 Tbsp granulated sugar
1 tsp vanilla extract
1 - 2 Tbsp packed light brown sugar
3/4 cup chopped pecans