Jalapeño Turkey Burgers With Basil Mayo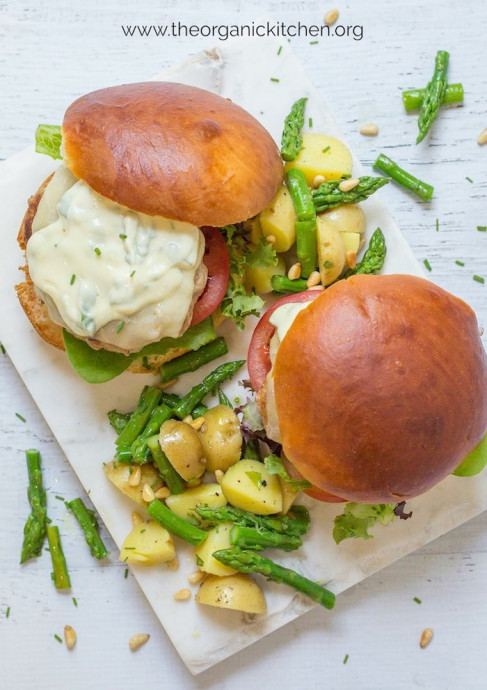 Sometimes we all just get a craving for a burger. And in my experience, the guys don't mind going along with that craving one bit. These Jalapeño Turkey Burgers with Basil Mayo and Healthy Potato Salad are our new favorite burger and side! Sometimes people are afraid of turkey burgers because they can be a bit dry. Not the case here! We like to use 85% lean turkey for this burger, so it's nice and juicy. We add spices and fresh jalapeño to make it super flavorful. But the flavor doesn't end there! To create an even more delightful flavor experience, we top this burger with mayo whisked with a little fresh basil and white balsamic. Then we add traditional burger toppings like lettuce and tomato. Crazy good! Wanna Make This Burger Gluten Free? Opt for a gluten free bun or wrap in lettuce!
When it comes to potato salad we like ours tossed in olive oil, sea salt and pepper! Simple, light and a fabulous compliment to our tasty burger! Pine nuts are optional. This is a flavorful burger with even more flavorful toppings!
Ingredients:
3/4 pound 85% lean ground turkey. If your ground turkey has excess liquid, be sure to set on paper towels to remove the juices.
1 tablespoon minced jalapeño
3/4 teaspoon smoked paprika
1 teaspoon onion powder
1/2 teaspoon powdered garlic
1/2 teaspoon sea salt
1/2 teaspoon black pepper
The Toppings:
1/3 cup good quality mayo
2 teaspoons white balsamic (or sherry vinegar)
3 basil leaves, chopped
2 buns (or iceberg lettuce for wrap)
2 slices white cheddar cheese
4 tomato slices
baby or iceberg lettuce