Panellets: Catalan Pine Nut Cookies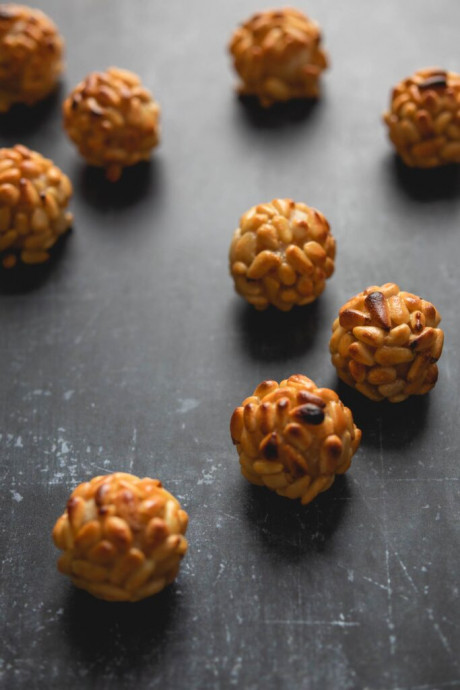 Panellets are a traditional Catalan cookie made from marzipan and pine nuts served for Tots Sants, or All Saints' Day. They're sweet and nutty, with a light crunch on the outside and a soft marzipan center. Panellets are actually surprisingly easy to make. They don't require any special equipment or even any mixing. All you need for panellets is marzipan, pine nuts, and egg.
To make panellets, you roll the marzipan into equal sized balls and use the egg to adhere the pine nuts to the marzipan. Then, they're quickly toasted in the oven and served at room temperature.
First, the pine nuts are soaked overnight in the beaten egg. The pine nuts soak up the moisture from the egg and become stickier. This makes it easier for the pine nuts to adhere properly to the marzipan and prevent bare spots on the panellets.
Once the marzipan is evenly coated with pine nuts, they're brushed with egg yolk before toasting in the oven. The panellets don't need to cook, they just need to be toasted. The panellets bake under the grill or broil setting for about 5 minutes, or just until the pine nuts turn golden brown.
Ingredients:
4.5 ounces pine nuts
1 egg
7 ounces marzipan
1 egg yolk