Malfatti (Italian spinach ricotta dumplings)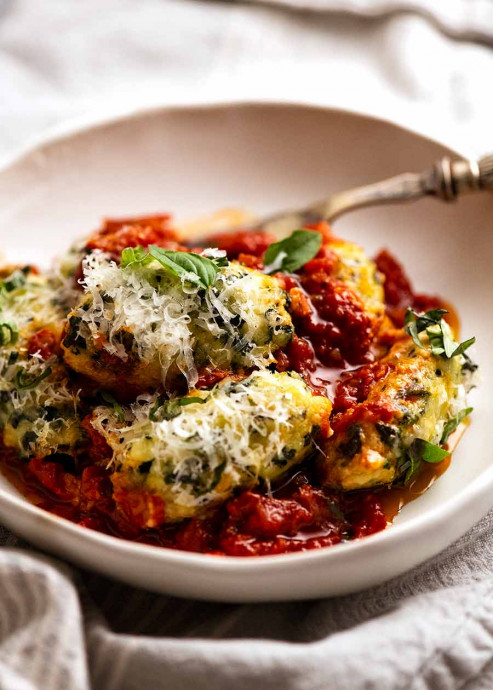 Malfatti means "badly formed" in Italian. These rustic spinach ricotta gnocchi-like dumplings may look a bit wonky, but they taste incredible – the very definition of the perfectly imperfect! Those plump little gnocchi-like balls are delightedly savory, ultra-soft and incredibly juicy on the inside. They're often paired with a tomato-based Napoli Sauce like here, and finished with a shower of Parmesan.
Like all additively tasty things that come in bite-size packages, they're dangerously difficult to stop popping them in your mouth once you start. Malfatti are traditional Italian dumplings made out of spinach and ricotta. They're bound together with a little flour and egg, and flavored with parmesan and basil.
Meaning "badly formed", the name malfatti is an affectionate jibe at their rough and rustic looks. They're also known as gnudi in other parts of Italy, which means "naked" – a reference to their appearance like pasta-less ravioli.
They are often served with a tomato-based Napoli sauce, though you also see it with other sauces such as brown butter and sage. Perfect for summer dinner!
Ingredients:
NAPOLI SAUCE:
2 tbsp olive oil
2 garlic cloves , finely minced
1/2 onion , very finely diced
800g / 24 oz crushed tomato (or diced)
1 tbsp tomato paste
1/2 cup water
1 basil stem (leaves kept for the Malfatti)
1/2 tsp white sugar
3/4 tsp salt
1/2 tsp black pepper
SPINACH FOR MALFATTI:
300g / 10oz baby spinach (~6 tightly packed cups, Note 4)
1/2 tsp salt
MALFATTI:
1 tbsp olive oil
2 cloves garlic , finely minced
1 eschallot (large), finely chopped (or 1/2 red onion)
500g / 1 lb ricotta (must be dry type, not wet and spreadable, Note 1)
1/4 cup (lightly packed) basil leaves, finely sliced (use stem for sauce)
1 egg (Note 2)
1 egg yolk (Note 2)
1 cup parmesan , finely grated
1/2 cup flour , plain / all-purpose
1/2 tsp salt
1/2 tsp black pepper
SERVING:
1/4 cup parmesan , finely grated
Basil leaves , small (optional)