Shrimp Salad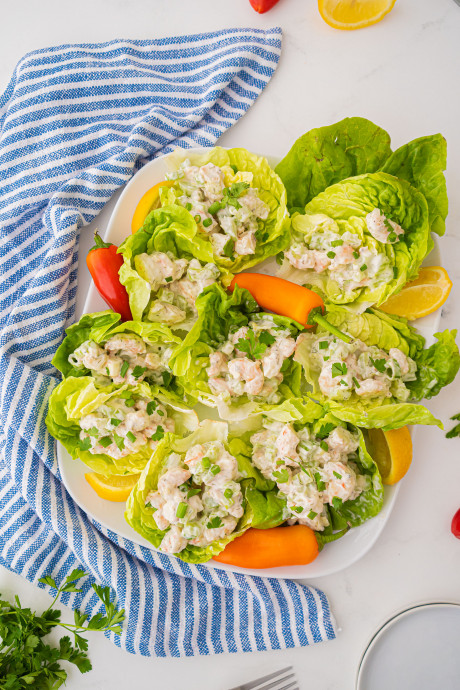 A common appetizer or party dish, this shrimp salad is tangy, tasty, and easily customizable with any of your favorite spices! Shrimp salad has a bit of a reputation as being old-fashioned, suitable only for parties in the 1950s. However, back in the day, it was one of the trendiest things you could hope to find at any party, so why not try and relive a bit of history and try and make it yourself?
The best part about making a shrimp salad is customizing it yourself; my favorite is using a bit of curry powder, but you could spice it however you like to make it your own. The base of this recipe is an exceptionally simple mayonnaise dressing with some shrimp and finely chopped vegetables, but this is only the beginning.
You could spice this literally however you like, with whatever flavorings you feel like at the moment. My favorite is some curry powder, but you could also turn it into an Old Bay shrimp salad or even make it Mexican-themed with some cumin, oregano, and a little bit of hot sauce.
If you are worried about adding the wrong seasoning in and ruining the dish, take a little bit of the mayonnaise dressing out of the bowl and mix it together with a small amount of your planned seasoning. This lets you try a few different seasoning combinations without worrying about having to make a whole new batch of mayonnaise if you seasoned it poorly.
Ingredients:
2 cups cooked shrimp diced into chunks
1/2 cup celery diced small
1 green onion diced small
Mayonnaise Dressing
1/2 cup mayonnaise
1/2 teaspoon yellow mustard
1/4 teaspoon black pepper
salt to taste
lemon juice to taste
green leaf lettuce cups
Optional Spices
1/2 teaspoon dill
1/2 teaspoon curry
1/2 teaspoon Old Bay