4th of July Bark Recipe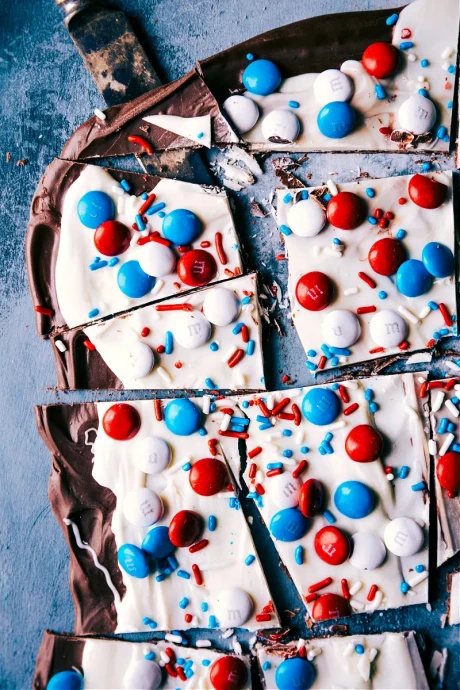 This 4th of July Bark Recipe is the perfect patriotic treat! This dessert is so tasty and with only four ingredients and no baking required, what's not to love?! This is the perfect treat for the 4th of July! Not only is it dressed for the occasion with red, white, and blue, but it's also easy and doesn't require any baking! And, in the dead of summer, you probably don't want to be turning on your oven to make a treat!
This bark only requires four ingredients, and if you don't want to add sprinkles, you'll only need three! Milk Chocolate Chips: We're huge fans of milk chocolate in desserts, and this 4th of July Bark Recipe is no exception. If you prefer less sweetness, use semi-sweet or dark chocolate chips instead. We've also made this bark with equal parts of two types of chocolate (dark and milk usually) which is a fun variation!
White Chocolate Chips: Using high-quality white chocolate chips will always result in a better melt and a richer taste. Red, White, & Blue M&M's: During the summer, a lot of stores sell this blend in the holiday or seasonal area of the store. You can also find it online. In a pinch, take regular M&M's and just pull out the blues and reds. (Visually, the white chocolate coating will add in that missing white color.)
Sprinkles: This is totally optional but sprinkles add extra visual appeal and they're so much fun! I love using star sprinkles or red, white, and blue jimmies. For best results, use good-quality chocolate chips. The bark isn't super tasty (or pretty) with cheaper chocolate.
Microwave the chocolate chips in sturdy, heat–safe bowls instead of using plastic or melamine.
To avoid burned chocolate chips, microwave the chips for 30 seconds at a time, and stir them for at least 20-25 seconds between each microwave burst. Remember, the chocolate is still melting even after it has been removed from the microwave.
Ingredients:
2 cups (326g) high-quality milk chocolate chips
2 cups (312g) high-quality white chocolate chips
3/4 cup (170g) red, white, and blue M&M's
3 tablespoons red, white, and blue sprinkles, optional