Red White and Blue Macarons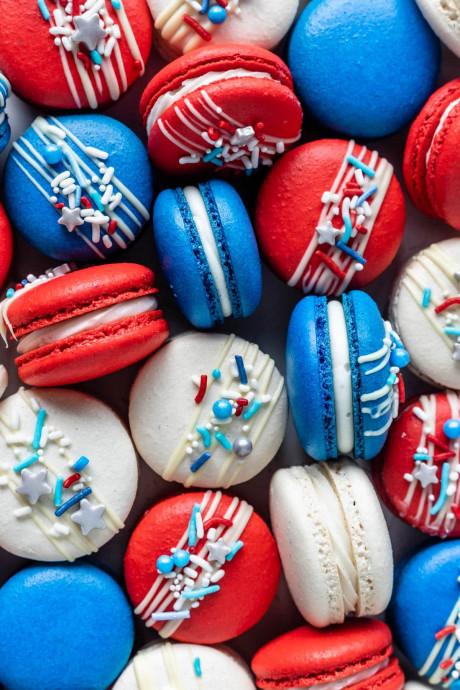 Today I will show you how to make Red White and Blue Macarons. These macarons are perfect to celebrate the 4th of July! They are filled with Cream Cheese Frosting and Raspberry Jam, but you can really use any filling you'd like.
I will teach you how to make the three colors, red, white, and blue out of the same batch of macarons! These Red White and Blue Macarons are perfect to celebrate America, these wonderful country for which I am so grateful! For the white shells, I used white powder food coloring by The Sugar Art. It does help make the shells super bright! I used about 1 tsp of powder.
If using other colors by The Sugar Art, go easy, use about 1/4 tsp, not a full tsp. It's just that for the white and black colors you'll end up needing more food coloring than for the rest of the colors. But I do recommend checking out The Sugar Art, since their colors are in concentrated powder form, which is great because it doesn't add any extra moisture to the batter.
But my overall favorite food coloring is Americolor gel food coloring. I used Americolor gel food coloring for the red and blue color shells.
Ingredients:
Macaron Shells
4 grams egg white powder
100 grams white granulated sugar
100 grams egg whites
105 grams almond flour
105 grams powdered sugar
A few drops of red blue gel food coloring, and white powder food coloring
Raspberry Jam
1 cup raspberries fresh or frozen 283 grams, 10 oz
1/4 cup maple syrup you can use granulated sugar or other sweetener instead
1 tbsp lemon juice
1 tbsp cornstarch
1 tbsp cold water
Cream Cheese Frosting
85 grams cream cheese softened 6 tbsp
42.5 grams unsalted butter softened 3 tbsp
125 grams powdered sugar
1/4 tsp vanilla extract or vanilla bean paste
Decoration
1/4 cup white chocolate 42 grams
1/4 cup sprinkles