Strawberry Summer Cake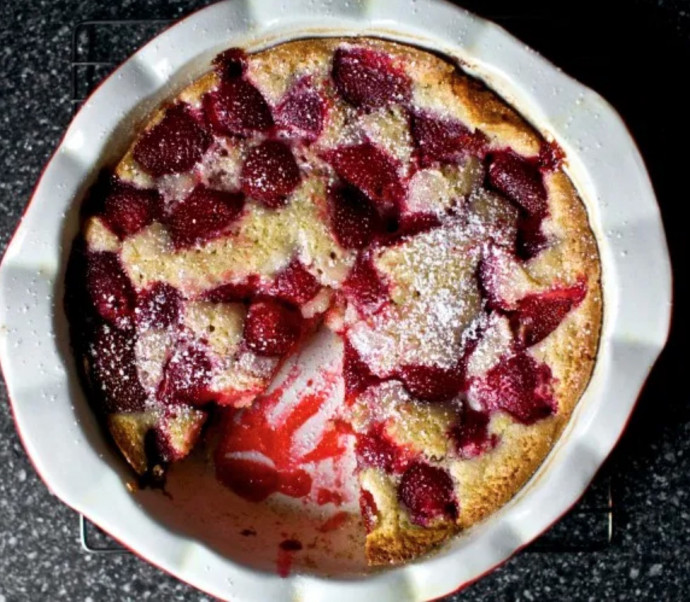 I hope this will be one of your favorite summer cakes. I realize that from the outset it may not look particularly different from a standard fresh berry coffee cake, but what makes it different is the volume of fruit — there's a pound of hulled and halved strawberries in a cake that can barely handle it. The strawberries take over.
The cake is short on steps but long on baking time, and in that hour that it hangs out in your oven, those strawberries turn into puddles of jam. The batter buckles around and the receding berries, which dimple like a country quilt. The edges of the cake become faintly crisp. And your apartment will smell like a strawberry patch. Your toddler will have no idea what's on the counter, only that he must march into the kitchen and blindly grasp at it, retreating to his trike with a satisfied fistful. You'll also sneak a slice before dinner, ruining your appetite and plotting the next time you'll be able to make it. This cake works like a dream with 100% all-purpose flour but if you've got barley flour around, swapping it in for half the volume is beyond delicious, adding a real depth to a deceptively simple cake.
Ingredients:
6 tablespoons (85 grams) unsalted butter, at room temperature, plus extra for pie plate
1 1/2 cups (188 grams) all-purpose flour (can swap 3/4 cup or 94 grams all-purpose flour with 3/4 cup or 75 grams of barley flour, see Note)
1 1/2 teaspoons baking powder
1/2 teaspoon table salt
1 cup (200 grams) plus 2 tablespoons (25 grams) granulated sugar
1 large egg
1/2 cup (118 ml) milk
1 teaspoon (5 ml) vanilla extract
1 pound (450 grams) strawberries, hulled and halved