Blueberry Buttermilk Bundt Cake with Lemon Glaze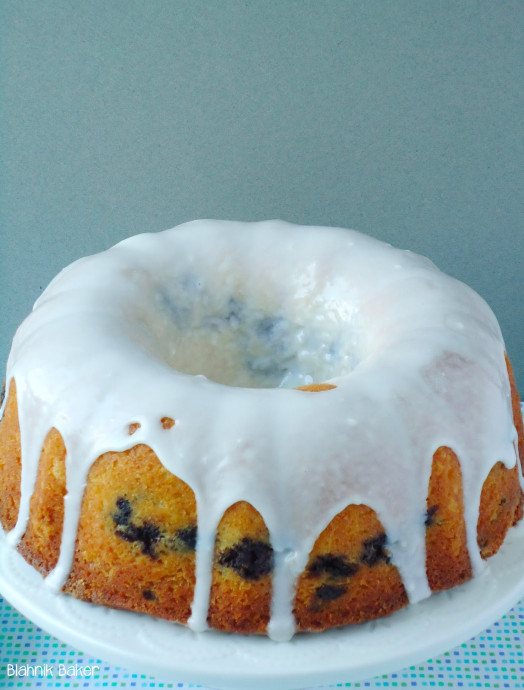 July is National Blueberry Month and to celebrate of course I had to make a cake! I didn't want to make a traditional cake and after seeing this bundt cake in the magazine, I knew it was time for me to cross off bundt cake on my baking bucket list. So I bought a bundt pan and grabbed some fresh blueberries and gave it a try this weekend.
The process of making a bundt cake is much like making a cake, except you have to be super careful not to over-mix the batter. If you are successful, you get a light and airy cake, which is exactly what this blueberry buttermilk bundt cake is. It is extremely moist and I think the addition of vegetable oil helped with this. I loved the texture of the blueberries in the cake too, they stayed very juicy. I was scared the blueberries might sink to the bottom, but I tossed them in flour before adding them to the batter and they remained floating in the cake as you can see. The cake itself is not too sweet so the lemon glaze is a perfectly sweet way to top it off!This blueberry buttermilk bundt cake is light, airy and full of deliciousness!
Ingredients:
3 cups plus 2 tablespoons all-purpose flour
2½ teaspoons baking powder
1¼ teaspoons salt
1 cup (2 sticks) unsalted butter, room temperature
1¾ cups sugar
¼ cup vegetable oil
4 large eggs, room temperature
1 teaspoon pure vanilla extract
¾ cup buttermilk, room temperature
2 cups blueberries (about 1 pint)
2½ cups confectioners' sugar
1 tablespoon unsalted butter, room temperature
1 tablespoon lemon juice
3 to 4 tablespoons milk