Creamy Aubergine (Eggplant) Curry (Vegan, Gluten-Free)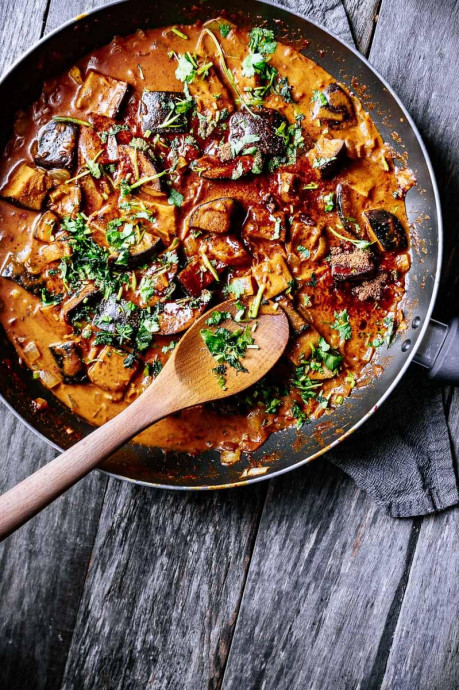 A super creamy Aubergine Curry packed with perfectly balanced flavors and a touch of spice. This filling and comforting eggplant curry is certain to satisfy your comfort food cravings! Vegan and gluten-free.It's really hard to convey just how delicious this is in words alone! The texture and flavors meld into something perfectly balanced and perfectly crave-able! I cannot wait to hear what you think, too. Eggplant/aubergine is a part of the nightshade family of plants, which also includes tomatoes, potatoes and most peppers.
If you've yet to add any sort of sugar or liquid sweetener to a curry before, you're in for a treat (ha!). Sweetness really helps balance salt and acidity taking a curry dish to a whole other level. The result is a very well balanced flavor profile that will leave you coming back for more! Serve thiscurry with white rice. It just works! Quinoa is always a close second and makes a suitable substitution for rice. Millet is an understated grain that works very well with curries just like rice and quinoa. Naan or other flatbread is great if you still want a bit extra and a great vehicle for scooping up all that curry goodness! To add yet more more flavor and a dash of vibrancy. A good cilantro or mango chutney is always most welcome on a curry dish!
Ingredients:
2 tablespoons coconut or avocado oil
2 aubergines (eggplants) cut into 1" cubes
1 white or yellow onion diced
6 garlic cloves minced
1/2" knob fresh ginger root grated or minced
2 tablespoons tomato paste
1 tablespoon curry powder
1 tablespoon coconut sugar or sweetener of choice
1 teaspoon cumin seeds
1 teaspoon ground coriander
1 teaspoon garam masala
¼ teaspoon red chili flakes (optional)
1 13.5-ounce can full fat coconut milk
1 13.5-ounce can water I simply fill the coconut milk can with water!
2 tablespoons fresh cilantro chopped
sea salt or pink salt to taste