Greek Gyro Recipe with Homemade Gyro Meat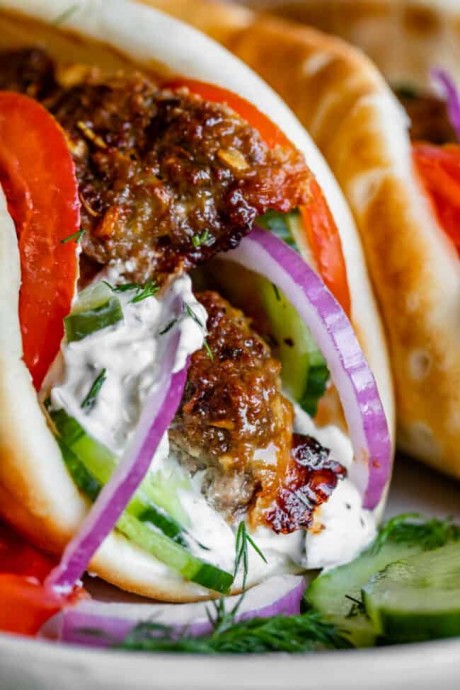 Make your favorite American-style Greek gyros at home! This gyro meat recipe combines ground beef and lamb to get that distinctive flavor you find at Greek restaurants. The texture is meatloaf-style rather than restaurant-style, but the flavors are on point. Doing it this way saves tons of time. Top with Tzatziki Sauce, tomatoes, onions, and cucumbers!
It's delicious, obviously, but ain't nobody got time for that. Instead, we are taking all the flavors you love and basically making meatloaf. It takes about 30 minutes to make the meat, start to finish. Ground beef is combined with ground lamb and spiced with cumin, oregano, thyme, rosemary, and marjoram. The resulting meatloaf is tender and flavorful and perfect for a weeknight gyro fest! It comes together pretty quick.
Ingredients: ground beef, ground lamb, bacon grease or butter, eggs, milk, lemon juice, Panko bread crumbs, onion, garlic, smashed and finely minced, salt & spices.
Course: Main Course, Lunch, Dinner
Prep Time: 20 minutes
Cook Time: 20 minutes
Total Time: 40 minutes