Mixed Berry Bundt Cake with Lemon Glaze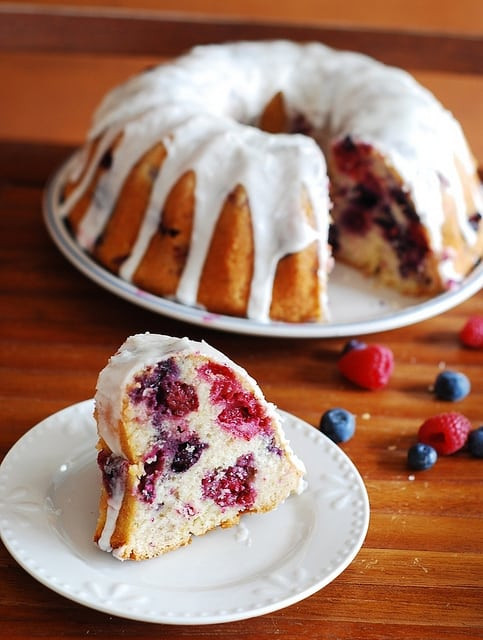 Mixed Berry Bundt Cake with Lemon Glaze – this cake is made with 3 types of berries all combined in one beautiful cake: blueberries, raspberries, and blackberries. It's a perfect Summer bundt cake that can be made with either buttermilk, or Greek yogurt, or Kefir. This recipe uses 10-cup bundt pan.
While this mixed berry bundt cake is perfect when made with fresh berries in the Summer time, I've made it both with fresh and frozen berries (without defrosting them). And by frozen berries I mean fresh berries that I froze myself, so that each berry remained separate and not clumped together. So, this recipe will work great both with fresh berries and frozen berries (as long as they are separated and not clumped). This makes me very happy, because it means that I can enjoy this mixed berry bundt cake BOTH in the summer AND in the winter.
This triple berry bundt cake also makes a beautiful presentation and is VERY easy to make.
Sometimes the cakes get stuck to the bundt pans and it seems impossible to get them out without ruining them. So, how do you get a cake unstuck from the bundt pan? Or, how do you successfully release a cake from bundt cake to begin with? Follow the below instructions and you will be able to get your cake safely out of the bundt pan!
Before you add the cake batter to the bundt pan, make sure to spray you bundt pan with a baking spray, preferably the one that contains flour. After you baked your bundt cake, remove the pan from oven, and let the cake cool in the pan for 40 minutes on wire rack. After your bundt pan has cooled off for 40 minutes, place the bundt pan (with the cake in it) in the freezer for 30 minutes – the bundt pan will still be quite hot to the touch (even after 40 minutes of cooling), so use kitchen gloves to handle the pan. Remove the bundt pan from the freezer after 30 minutes. Invert the bundt pan onto a cake plate and let it sit inverted for a bit to let the gravity do the work (it could take as little as half a minute or as long as 20 minutes, depending on your bundt pan). Then, gently lift the bundt pan and your cake should be released.
Pour the lemon glaze over your cooled bundt cake and you're done! And you don't even need the lemon glaze. This cake is good as is!
Ingredients:
Mixed Berry Bundt Cake
2 1/2 cups all-purpose flour
2 teaspoons baking powder
1 teaspoon salt
1 cup unsalted butter (room temperature)
1 3/4 cups granulated sugar
zest of 1 lemon
3 large eggs
1/2 teaspoon vanilla extract
3/4 cup Greek yogurt (or Kefir, or buttermilk)
3 cups mixed berries (I used 1 cup raspberry, 1 cup blackberry, 1 cup blueberry)
2 tablespoons all-purpose flour
Lemon Glaze
1 cup powdered sugar
2 tablespoons powdered sugar
4 tablespoons lemon juice (freshly squeezed)
1 tablespoon unsalted butter (softened, not melted! the butter should still be able to retain its shape!)