Crispy Tofu Lettuce Wraps with Peanut Sauce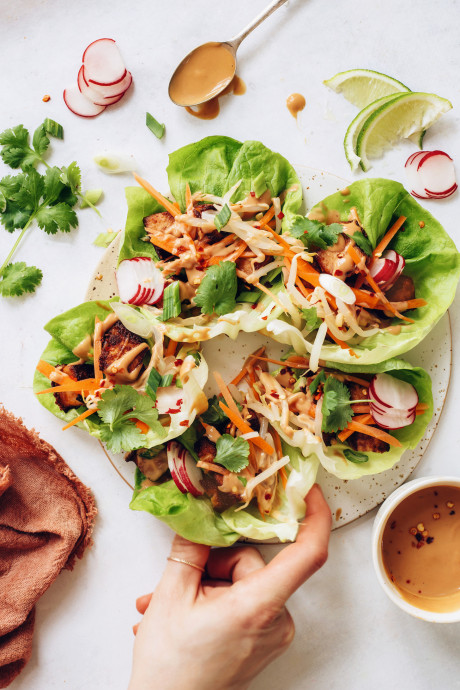 In the spirit of summer, I wanted to create some light and simple yet satisfying entrées, and the first idea to come to mind was tofu lettuce wraps!
I've tried preparing tofu just about every which way, but have settled on this new-and-improved crispy method as our favorite. Think next-level crispy tofu with tons of flavor that pairs incredibly well with fresh lettuce cups and spring veggies. The best part? Our go-to, 5-ingredient, super flavorful peanut sauce, which marries everything together perfectly. Let me show you how it's done!
My preferred varieties for lettuce wraps are Bibb or Boston lettuce or green cabbage. They're sturdy, non-bitter, and can hold a lot of goodness in each leaf. These 10-ingredient wraps are made with four main components: lettuce leaves, crispy tofu, fresh vegetables and herbs, and a flavorful peanut sauce.
To make the tofu, we press it to remove moisture, marinate it to infuse with flavor, and coat in cornstarch for a crispy exterior. Tamari adds a savory/umami element, chili garlic sauce adds heat, toasted sesame oil gives it sesame flavor, and maple syrup provides a hint of sweetness.
Ingredients:
TOFU
14 ounces extra-firm tofu, pressed (see instructions for pressing)
3 Tbsp tamari or soy sauce (use tamari for gluten-free eaters)
2 tsp chili garlic sauce (reduce or omit for less heat)
1 tsp toasted sesame oil (plus more for cooking)
2 tsp maple syrup
5-6 Tbsp cornstarch
PEANUT SAUCE
1/2 cup salted creamy peanut butter* (or almond butter or sunflower butter)
1-2 Tbsp tamari or soy sauce (or sub coconut aminos* but add slightly more as it's less salty)
1-2 Tbsp maple syrup (plus more to taste)
1-2 tsp chili garlic sauce (or 1 red Thai chili, minced // or 1/4 tsp red pepper flake // adjust to preferred spice level)
2-3 Tbsp lime juice
3-4 Tbsp water (to thin)
FOR SERVING
1 cup thinly sliced / shredded vegetables (e.g. carrots, radish, green onion, and/or bean sprouts)
1 small head green (non-bitter) lettuce or green or purple cabbage (as recipe is written, ~10 cup-size leaves of lettuce or cabbage // we prefer green cabbage or Bibb or Boston lettuce)
Fresh cilantro or Thai basil (optional)