Pad See Ew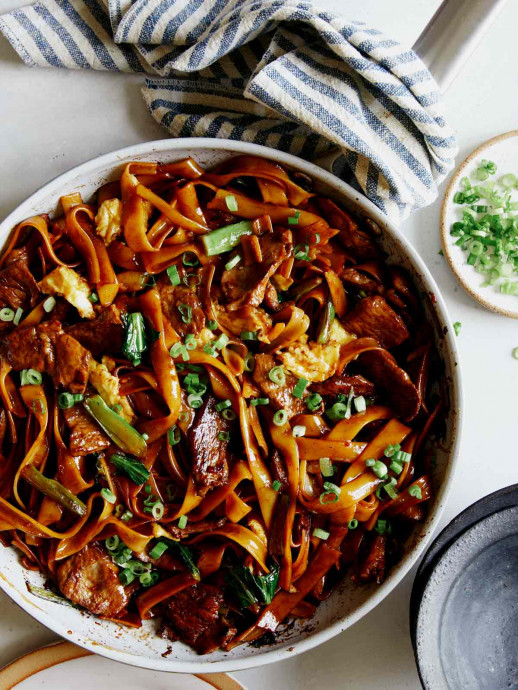 Pad See Ew is a homemade version of the popular Thai takeout dish. A simple and delicious stir-fried noodle dish with delicious marinated pork and crisp Chinese broccoli. This fast and easy dish one of our go-to, busy weeknight dinners.
Pad See Ew is my go to Thai takeout dish of choice. I love the wide, flat rice noodles that soak up all the delicious soy based sauce, the slightly crisp Chinese broccoli and the fluffy scrambled egg that picks up all the flavors of the dish! It's such a delicious dish and couldn't be more simple to make in the comfort of your own home!
It's a stir-fry Thai noodle dish with Chinese influence. It translates to "fried (with) soy sauce". It's one of the most popular Thai takeout dish and a great one to start with if you're new to Thai food.Pad see ew tastes salty with a very subtle sweetness and a chargrilled flavor from the noodles caramelizing with the sauce against the skillet. If you can't find Chinese broccoli you can substitute it with broccolini or bite sized broccoli florets.
If you aren't able to find dark soy sauce you can replace it with more regular soy sauce (and an extra pinch of sugar), but the pad see ew noodles won't darken as much.
Ingredients:
noodles
8 ounces dry wide and flat rice noodles
sauce
2 tablespoons dark soy sauce
1 tablespoon oyster sauce
1 tablespoon soy sauce
2 teaspoons white vinegar
1 ½ teaspoons sugar
1 minced garlic clove
pinch salt
pork
3/4 pound sliced pork shoulder
2 teaspoons mirin
1 teaspoon soy sauce
1 teaspoon sesame oil
1/2 teaspoon minced ginger
assembly
2 tablespoons vegetable oil
2 large eggs, lightly beaten
½ pound Chinese broccoli, cut into 1 1/2" pieces
1 green onion, thinly sliced
salt and white pepper to taste