Iced Rose Rooibos Tea Latte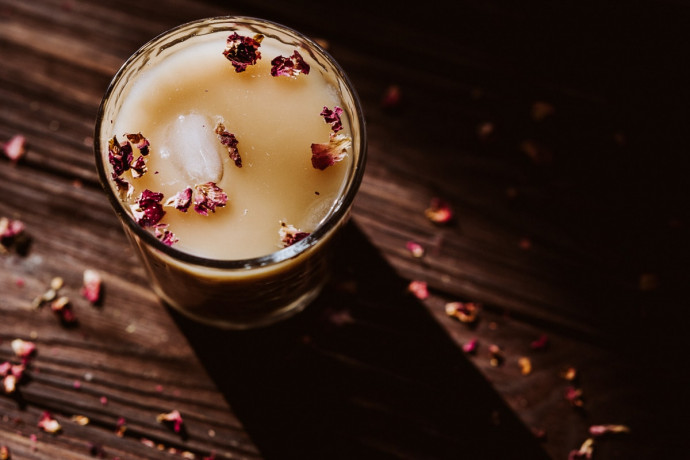 This Iced Rose Rooibos Tea Latte makes a calming and refreshing plant-based drink perfect for anytime of day. Vegan and gluten-free. Rooibos (pronounced roy-boss), also known as red tea or redbush tea, hails from South Africa. Its leaves and stems are fermented, lending its rich, red color. It is not a true tea (from a tea plant), but a tisane (an herbal tea). It has a warming, earthy flavor and is naturally caffeine-free. Rooibos contains powerful antioxidants that have been shown to have a relaxing effect on the central nervous system, including lowering cortisol levels in the body.
I've been sipping on this soothing beverage for some time now so figured it high-time I share it here on the blog for you to enjoy, too! I absolutely love rooibos tea. I find it to have rather soothing, calming and relaxing properties, but not too much so, making it a great morning, afternoon or evening beverage. Rose paired with rooibos is an excellent match both because of the similar properties they share, as well as flavor notes. Throw it on ice with touch of sweetness, and you are in for one divine sweet treat of a drink! Enjoy.
Ingredients:
1 cup water
1 bag rooibos tea or 1 teaspoon loose leaf tea
1 tablespoon edible rose petals or rosebuds, plus more to optionally garnish
2 tablespoons maple syrup or honey if not vegan
½ teaspoon vanilla extract or vanilla bean powder
½ cup oat milk or other milk of choice
ice for serving