Pinto Posole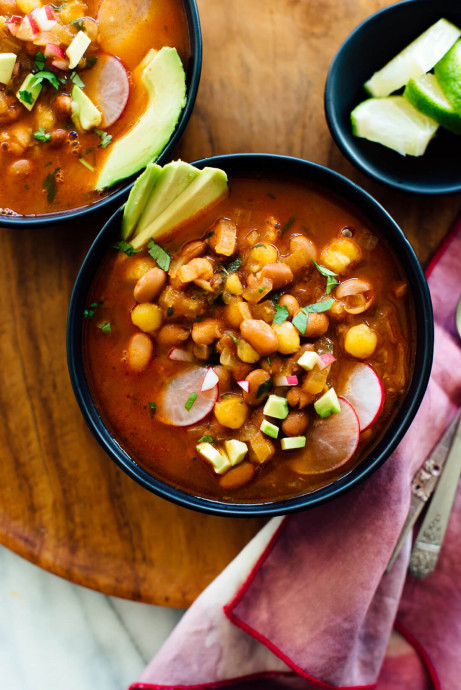 Posole, pronounced poh-sOH-lay, is a Mexican stew that typically features shredded pork, dried chilis, hominy and cumin. In Mexico and New Mexico, it's often served on celebratory occasions like Christmas or New Years, but it's great on any chilly day.
My variation with pinto beans instead of pork is not quite authentic, but it's full of redeeming fiber and protein. It straddles the line between a soup and a stew, so I'm using those words interchangeably here.
This hearty vegan posole is made with pinto beans instead of pork! This easy Mexican posole recipe is healthy, spicy and delicious. Leftovers taste even better the next day. Recipe yields 4 bowls.
Ingredients:
2 to 4 guajillo chili peppers*
2 tablespoons extra-virgin olive oil
1 large white onion, finely chopped
4 cloves garlic, pressed or minced
1 tablespoon ground cumin
½ cup (4 ounces) tomato paste
1 bay leaf
3 cans (15 ounces each) pinto beans, rinsed and drained
1 can (15 ounces) hominy, rinsed and drained
32 ounces (4 cups) vegetable broth
2 cups water
½ teaspoon fine sea salt, to taste
¼ cup chopped cilantro, divided
1 lime, halved
Recommended garnishes: sliced avocado, shredded green cabbage, chopped radish, onion and/or jalapeño