Creamy Vegan Vanilla Ice Cream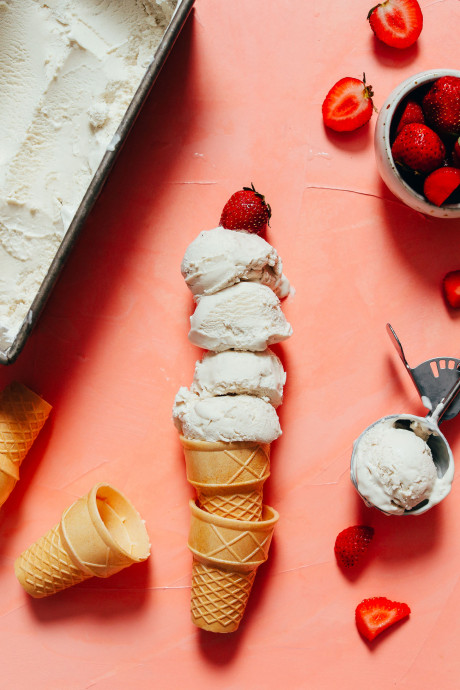 The hunt for our go-to vegan vanilla ice cream is officially over! This recipe is not only simple to make, but it also yields perfectly sweet, creamy vegan ice cream in 3 hours including freezing! Plus, just 6 ingredients required. Let us show you how it's done! The base for this ice cream is coconut milk + cashew butter. It's a magical combo that creates a rich, creamy, dreamy texture.
For sweeteners, we went with a mix of maple syrup and cane sugar. Maple adds a delicious flavor and cane sugar helps the texture by reducing ice crystallization. Vanilla extract adds that classic vanilla flavor. And lastly, for even more creaminess, you can optionally add xanthan gum and olive or avocado oil, both of which add more richness.
All the ingredients are added to a blender and blended until smooth and creamy. Then the mixture is chilled slightly so that the warmth from blending doesn't mess with the churning in the ice cream maker.
Ingredients:
2 14-ounce cans full fat coconut milk (ensure it's a quality brand*)
1/4 cup raw cashew butter
1/4 cup maple syrup or agave nectar (or sub all organic cane sugar)
1/4 cup organic cane sugar (or sub all maple syrup)
1 Tbsp pure vanilla extract (or sub fresh vanilla from a vanilla pod, though the alcohol in extract ensures the ice cream doesn't freeze too firmly)
1/2 tsp xanthan gum (for creamier texture // if you don't have, omit)
1 Tbsp olive oil or avocado oil (optional // for a bit of added creaminess)