Chicken and Zucchini Basil Pesto Tortellini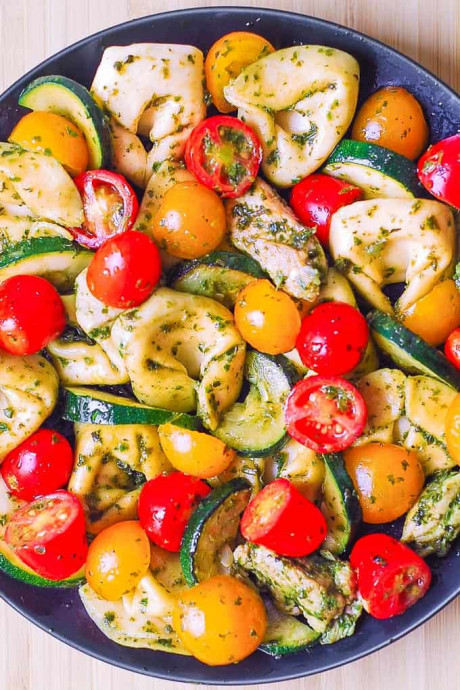 Chicken and Zucchini Basil Pesto Tortellini – a delicious Mediterranean style recipe with Summer colors and vibes! Zucchini, chicken, cherry tomatoes, and tortellini are all tossed together with basil pesto to create a light Summer dinner. Basil pesto goes so well with chicken and pasta, and once you add other veggies, such as zucchini and cherry tomatoes, you'll have a very refreshing and colorful dinner! Serve this dinner with Avocado Salad with Basil Pesto, Mozzarella, Tomatoes.
Cook tortellini in a large sauce pan of boiling water according to package instructions. Drain.
In a large skillet, cook sliced zucchini, then cook sliced chicken until cooked through.
Add cherry tomatoes (each sliced in half) and cooked tortellini to the skillet with the zucchini and chicken. Add basil pesto and reheat everything gently.
That's it! Your basil pesto tortellini with zucchini and chicken is ready! Easy to make and tastes good!
Ingredients:
2 cups tortellini uncooked
2 tablespoon olive oil , divided
1 zucchini , sliced
salt
1 lb chicken breast , cut into small slices
1 cup red cherry tomatoes , each sliced in half
1 cup yellow cherry tomatoes , each sliced in half
7 oz basil pesto