Blackened Green Beans and Grits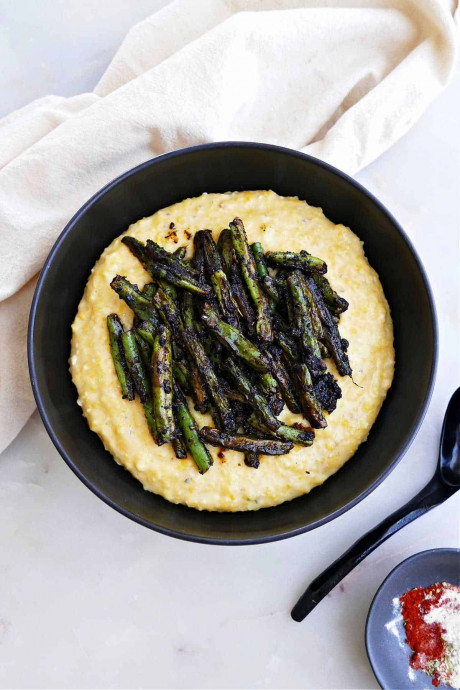 Spicy blackened green beans, charred to perfection in a skillet, sit atop cheesy grits in this Southern-inspired vegetarian recipe. It makes a great main or side dish!
While blackened seasoning is typically used on seafood and meats, you can also use it to coat vegetables (like green beans!).
I fell in love with their spicy taste and perfectly charred crust, so much so that I developed my very own blackened green beans recipe for my cookbook. It turns out that it's very easy to make homemade blackened seasoning. You just need a well-stocked spice cabinet.
I continued to brainstorm ways to serve these green beans after my book was published. One night this spring, Will and I made blackened shrimp and grits. I soon realized that blackened green beans could also be served with grits! So, here it is! Blackened seasoning is pretty spicy. To make it milder, omit the cayenne pepper and use less paprika.
If you don't have some of the spices for homemade seasoning on hand, you can also buy blackened seasoning online or at some stores.
You can cook grits in water or milk/cream. I prefer to do half water and half whole milk. Then, I stir in some grated cheddar cheese towards the end. They're so yummy! Use stone ground grits for best results, and adjust the cooking time based on how much texture you want. I like creamy grits, so I cook them for about 30 minutes.
Ingredients:
For the cheesy grits
1 cup whole milk
1 cup water
1/2 cup stone ground grits
1/2 cup grated cheddar cheese
For the green beans
1 tsp smoked paprika
1/2 tsp garlic powder
1/2 tsp onion powder
1/4 tsp dried oregano
1/4 tsp dried thyme
1/4 tsp cayenne pepper
1/8 tsp freshly ground black pepper
1/8 tsp salt
3 tbsp extra virgin olive oil
2 heaping cups green beans - trimmed