Perfect Peach Iced Tea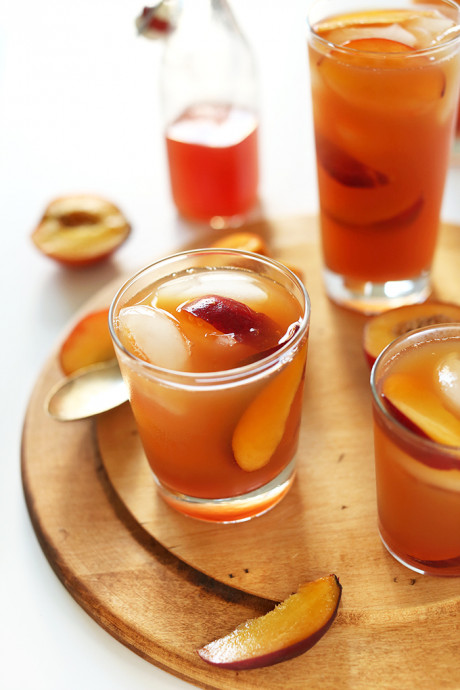 Sweetened iced tea is a popular beverage in the Southern US. And the oldest written recipe is believed to date back to an 1879 cookbook. We couldn't find any history on the addition of peaches, but they are a common crop in southern states, especially in Georgia.
The following is our inspired take on the peach tea we've tried in restaurants. This peach iced tea really is perfect. I hate to compare this tea to Sonic's, because that would mean I would have to admit I go there. But since the cat is out of the bag, I am fond of Sonic's unsweetened iced tea with peach and was happy to recreate something so similar at home that was much fresher and made with ingredients I know and trust.
It starts with peach simple syrup, which has the most insanely gorgeous pink hue. Not to mention, it tastes amazing – like ripe peach liquid candy. If you don't want that, you're wrong.
Once your simple syrup is made, all that's left to do is brew up your favorite black tea. We prefer loose leaf, but bagged tea is fine too. The main flavor here is the peach anyway, but quality tea certainly doesn't hurt. The beautiful thing is, you can brew the iced tea and keep the simple syrup on hand so each person can decide how much they want to add. Or, you can mix it all together in a tea dispenser for easy serving for parties and such. It really is the perfect summer beverage. Hope you'll give it a try. Cheers!
Ingredients:
1 cup organic cane sugar
1 cup water
2 ripe peaches (thinly sliced // plus more for serving)
2-3 Tbsp loose leaf black tea (3-4 tea bags // depending on how strong you prefer it)
8 cups filtered water