Whoopie Pie S'mores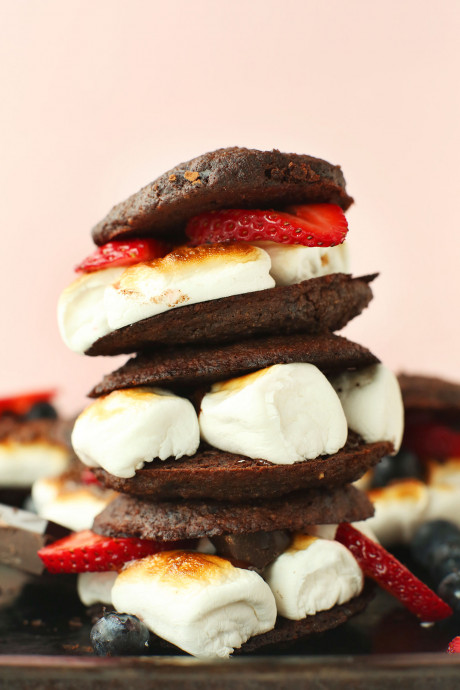 In my defense, these are delicious. I apologize in advance for offending anyone with this obviously overindulgent dessert.
But one bite in and I think you'll be singing a different tune. Nay, even thanking me! Man, so glad we worked through this, guys.
What do you say? Let's make whoopie pie s'mores! Part of the lure of s'mores is the crunchy graham crackers. But what if the chocolate bar was the slightly "crunchy" part, and the crackers were replaced with soft and tender chocolate cake?
I mean…what's not to love? I knew you'd come around. These s'mores are easy to make, as the whoopie cakes require just 1 bowl! The rest happens on a baking sheet (or over the open fire if you're cool like that – just don't rub it in our faces).
The assembly is quite easy. Make cakes, top with chocolate and marshmallows, toast, top with fruit (optional for color), smash, and enjoy!
Ingredients:
CAKES
1/2 cup unsweetened plain almond milk
3/4 tsp apple cider vinegar or lemon juice
1 1/2 tsp baking soda
2 batches flax egg (2 Tbsp (14 g) flaxseed meal + 5 Tbsp (75 ml) water as original recipe is written // adjust if altering batch size)
1/4 cup grape seed or canola oil
1/3 cup coconut sugar (or sub organic cane sugar)
5 Tbsp maple syrup or agave nectar
3/4 cups unsweetened applesauce
1/2 tsp pure vanilla extract
1/4 tsp sea salt
1/2 tsp baking powder
1/2 cup unsweetened cocoa powder (plus 1 extra Tbsp as original recipe is written // adjust if altering batch size)
1/2 cup almond meal (finely ground from raw almonds)
1/4 cup gluten-free oat flour (finely ground from raw oats)
3/4 cups gluten-free flour blend (plus 1 extra Tbsp as original recipe is written // adjust if altering batch size)
FILLINGS
1 10-ounce bag vegan gluten-free marshmallows (I like Dandies // halved)
6 ounces vegan dark chocolate (broken/roughly chopped)
Fresh blueberries + sliced strawberries (optional)