Vegan Gluten-Free Strawberry Shortcake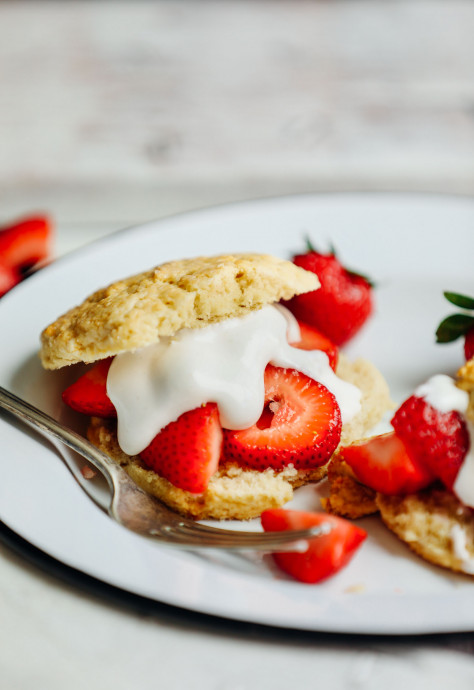 This recipe is simple, using easy-to-master methods and 10 basics ingredients you likely have on hand right now. Plus, they come together in less than 1 hour! They are gluten-free with a mix of my gluten-free flour blend, almond flour, and cornstarch.
The result is a seriously fluffy, tender shortcake that's perfect for strawberries and coconut whipped cream. These shortcakes bake up beautifully. I was so happy to see them rise well and brown on the outside. They formed a nice crust on the outside (swoon!), yet remained tender and fluffy on the inside. All that's left to do is let these babies cool. Then we get to the important part: toppings! For toppings, I went with Coconut Whipped Cream and strawberries sprinkled with cane sugar. I brought mine along to a BBQ and they were gone in minutes – a non gluten-free crowd no less! Fluffy, tender, vegan gluten-free shortcake topped with coconut whipped cream and strawberries! The perfect special diet-friendly dessert for summertime!
Ingredients:
COCONUT BUTTERMILK
3/4 cup light or full-fat canned coconut milk (well shaken / stirred so no clumps remain)
1 Tbsp lemon juice or apple cider vinegar
1/2 tsp vanilla extract (optional)
SHORTCAKE
1 cup gluten-free flour blend*
1 scant cup almond flour
2 Tbsp cornstarch (non-GMO when possible // or sub arrowroot starch)
3 Tbsp organic cane sugar* (plus more for topping // or sub stevia to taste)
1/2 tsp sea salt
2 tsp baking powder
3 Tbsp coconut oil
FOR SERVING
1 lb strawberries (hulled and sliced // organic when possible)
1 pinch stevia (optional // or 1 Tbsp (12.5 g) organic cane sugar to sweeten/create a sauce)
Coconut Whipped Cream or Vanilla Bean Ice Cream (optional)