Baklava Granola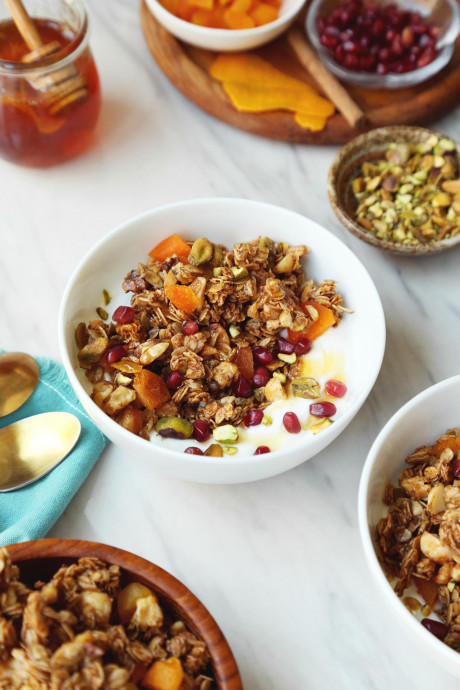 Honey sweetened granola with spices and nuts inspired by baklava. Serve over Greek yogurt with spiced citrus honey syrup.
Here's what you need to make Baklava Granola:
old-fashioned oats. Look out for a gluten-free version if that's important to you.
very coarsely chopped walnuts. I think walnuts make this granola baklava-y. If you prefer a different nut, I fully support it. macadamia nuts (either raw or roasted and salted) because they're buttery luxury and pistachios because we're fancy!
honey, olive oil (most any fat you like will be fine), and vanilla to flavor and bind the granola.
brown sugar, allspice, cinnamon, a hint of clove, and salt to add sweetness and baklava flavor.
a whipped egg white for will help the granola clump while it bakes. If you have an egg allergy, you can leave it out and sub in a flax egg. the all-important syrup of honey, sugar, water, cinnamon sticks, and orange peel.
for serving: Greek yogurt, diced dried apricots, and fresh pomegranate seeds.
Start by mixing together the oats, brown sugar, spices, and salt. Toss in a bowl until evenly combined.
Ingredients:
3 cups (240 grams) old fashioned oats
1/4 cup (55 grams) lightly packed light brown sugar
1 1/4 teaspoon ground cinnamon
1/2 teaspoon ground allspice
1/4 teaspoon ground cloves
1/2 teaspoon kosher salt
1/3 cup (113 grams) honey
1/3 cup (75 grams) olive oil
2 teaspoons vanilla extract
3/4 cup coarsely chopped walnut pieces
1/2 cup roasted and salted macadamia nuts
1 large egg white, at room temperature preferably*
1/2 cup honey
1/2 cup granulated sugar
1/4 cup water
1 cinnamon stick
3 pieces of orange peel
Chopped dried apricots
Fresh pomegranate
Greek yogurt
Roasted salted pistachios if you're feeling nutty and fancy