Baked Beignets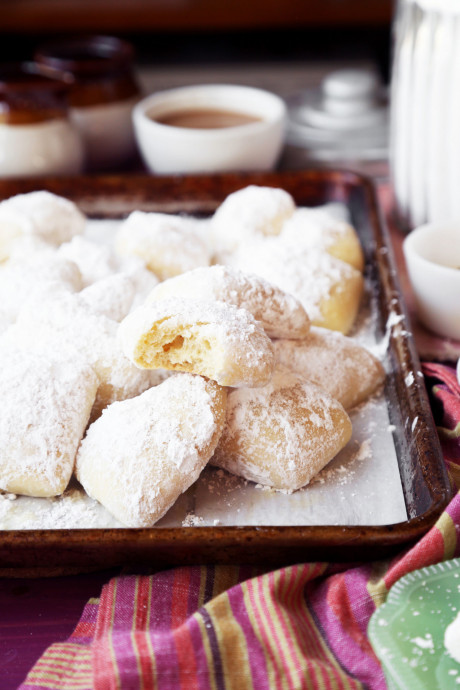 Seeing as not all of you have fry oil stored just for beignets I though… let's bake these babies. All the pillowy action you want from a beignet but baked, butter brushed, and piled high with powdered sugar. These are a fast rise, fast bake – really the quickest way to beignet.
Here's what you'll need: flour, salt, sugar, and a pinch of cinnamon, active dry yeast and baking powder, for lift on all sides, butter, egg, and whole milk to enrich the dough with flavor and fat, a boatload or so of powdered sugar + melted butter for topping.
These baked beignets have a quick rise. After mixing the dough will rest for 15 minutes before it's rolled out and sliced into beignet squares. Once on the baking sheet, the dough will rise for another quick 30 minutes before hitting the oven. Are baked fries as good as fried fries? Are baked doughnuts as good as fried doughnuts? No way. But they're different and delicious and absolutely worth the baking adventure.
Ingredients:
For the dough:
1/4 cup warm water
Pinch of granulated sugar
2 1/4 teaspoons (1 package) active dry yeast
3 1/4 - 3 1/2 cups all-purpose flour
1/4 cup granulated sugar
1 teaspoon sea salt
1 teaspoon baking powder
1/4 teaspoon ground cinnamon
1 large egg
3/4 cup whole milk, lightly warmed
4 tablespoons unsalted butter, at room temperature, sliced into chunks
For the topping:
4 tablespoons unsalted butter, melted
3 cups powdered sugar