Chocolate Raspberry Almond Butter Bars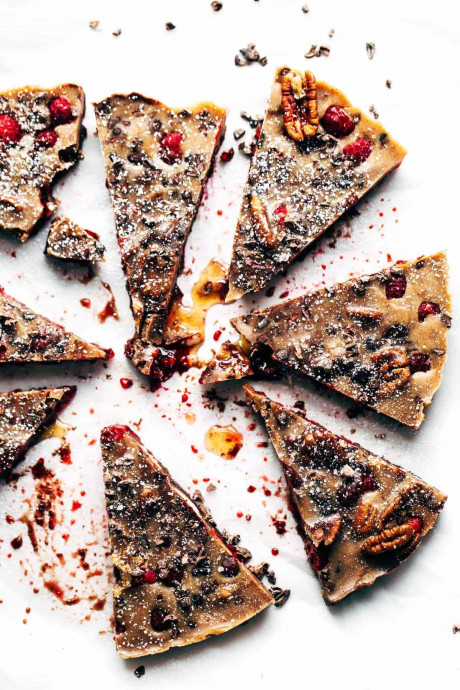 Chocolate Raspberry Almond Butter Bars, in case you didn't know, start with a layer of frozen raspberries and pecans (but you have different fruit and different nuts? just do what you need to do, girlfriend) and then comes the good stuff –> a layer of melted chocolate fudgy butter sauce, and then a second layer of creamy almond-buttery sauce, and then, finally, maybe most importantly, the toppings come out to play: cacao nibs, crushed nuts, seeds, flaked coconut, and/or powdered sugar if u like it fan-say.
Baking? No siree. Pop these babies in the freezer for 30 minutes and BOOM. You've got yourself a super-pretty, feel-good, pre-dinner snack. Not that I ever eat stuff like this before dinner. I mean, me? Come on, you guys. Nevvvver.
In addition to being gorgeous, decently healthful, and indulgent to the max, these little treat bars are essentially Use Anything In Your Pantry kind of bars, which is my number one favorite kind of dessert recipe.
Frozen strawberries? Cashews? Oats? Non-frozen pomegranate arils? Pistachios? Peanut Butter? So many possibilities.
Ingredients:
8 tablespoons salted butter, divided
8 tablespoons coconut oil, divided
2 tablespoons cocoa powder
4 tablespoons honey, divided
2 tablespoons almond butter
1 teaspoon vanilla
a couple pinches of salt (to taste)
1 heaping cup frozen raspberries
1/2 cup whole or chopped pecans
cacao nibs, flaked coconut, sea salt, or anything else you might like as a topping