Black Forest Cheesecake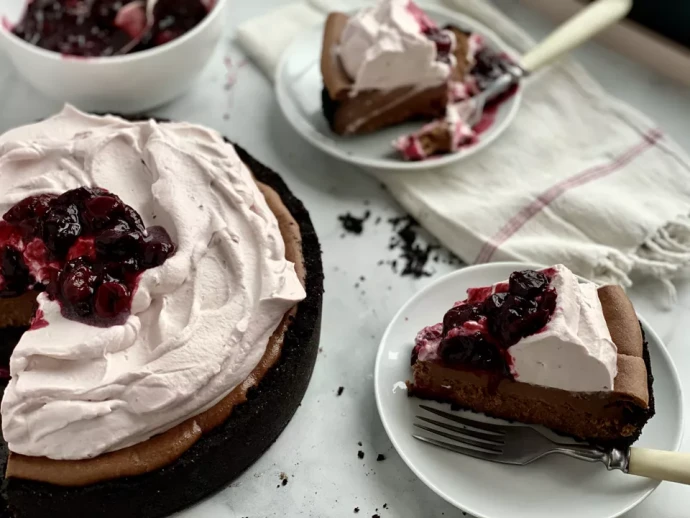 Chocolate and cherries are an undeniably great combo and this black forest cheesecake is a great vehicle for showcasing this delightful pairing. The crust is an easy-peasy chocolate cookie crust with sugar to amp up the sweetness just a bit. It takes a short rest in the freezer after it is pressed into the pan, so that it keeps its shape while baking. The filling is also super simple, as long as you remember to bring all of your ingredient to room temp before you begin assembly and to mix them on a low speed.
Cheesecakes get a bad rap as being difficult to make and finicky, but they really don't have to be (and there is always whipped cream to hide any imperfections on the top of the cake—should they exist!). Moreover, this particular recipe does not require a water bath, which makes baking the filling just that much easier.
The finished cake does need to cool down in the oven (turning the oven off, but keeping the cheesecake inside insures it will not crack from a drastic drop in temperature), but you can make your compote and mise en place your whipped cream while it does.
Ingredients:
9 ounces chocolate wafer cookies (about 45 two-inch thin wafer cookies)
1/3 cup sugar, plus 3 tablespoons, divided
1 1/4 teaspoons kosher salt, divided
1/2 cup unsalted butter, melted
2 cups semi-sweet chocolate chips
2 cups heavy cream, divided
24 ounces cream cheese, room temperature
1 cup light brown sugar
1 tablespoon vanilla extract
4 large eggs, at room temperature
3 tablespoons all-purpose flour
5 cups sweet cherries
2 teaspoons cornstarch
7 tablespoons Kirsch, divided
3 tablespoons confectioners' sugar