Baked Italian Zucchini Balls Recipe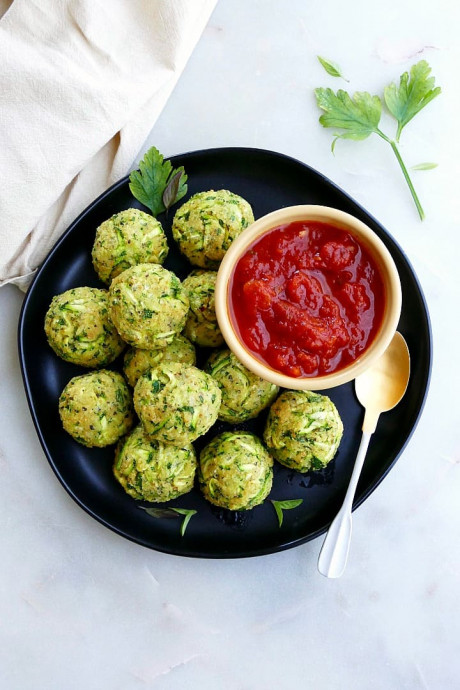 These delicious zucchini balls make the perfect appetizer! Made with Italian herbs and parmesan cheese, they're loaded with flavor while still being bite-sized and easy to eat. Serve them as a healthy snack or vegetarian meatball substitute. It's zucchini season, and I know that many of you are probably making breads, muffins, and zoodles! I'm here today to throw a less common zucchini recipe into the mix.
These healthy zucchini balls use grated zucchini, similar to many other recipes that feature this vegetable, but have a savory twist instead of a sweet one. I bulked them up with bread crumbs and grated cheese and added fresh basil, parsley, and garlic.
Each little ball is bursting with Italian-inspired flavors. I thoroughly enjoyed dipping them in marinara sauce and had to stop myself from gobbling up the whole tray!
Whether you serve this healthy zucchini snack as an appetizer for a holiday party, an after school snack, or just as part of dinner one night, you can't go wrong. I highly recommend making a batch of my Canned San Marzano Tomato Sauce to go with them!
Ingredients:
2 cups grated zucchini - from ~1 zucchini
1/2 cup bread crumbs - sub gluten free if needed
1/4 cup grated parmesan cheese
2 eggs - beaten
2 cloves garlic - minced or pressed
2 tbsp chopped fresh basil - or 2 tsp dried
1 tbsp chopped fresh parsley - or 1 tsp dried
1/2 tsp salt
Freshly ground black pepper - to taste
Marinara sauce - for dipping