BBQ Pineapple Jalapeno Pizza on Pita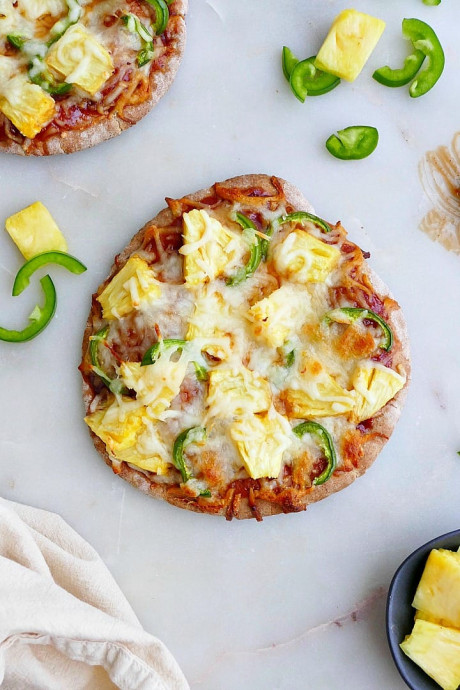 Sweet and spicy BBQ Pineapple Jalapeno Pizza is a delicious vegetarian option for pizza night! This version is made on whole wheat pita bread instead of homemade crust, so that you can have dinner on the table in just 30 minutes.
Use 100% whole wheat pita bread for your BBQ pineapple jalapeno pizza for a little extra fiber. I typically use store-bought BBQ sauce (like Primal Kitchen brand) for this recipe, but you can also use a homemade BBQ sauce, like the one I use in my BBQ Lentils with Shredded Carrots. Be sure to remove the seeds from the jalapenos if you don't want your pizzas to be super spicy. Even though this is a quick recipe, you can cut back the prep time by slicing the pineapples and jalapenos in advance.
The pizzas taste best when enjoyed right away, but leftovers will last in an airtight container in the fridge for up to 4 days. Reheat under the broiler for 2 to 3 minutes until warmed through.
These pita pizzas make a balanced meal on their own, but I like to serve them with my Roasted Frozen Broccoli for a more complete meal (and some extra veggies, who am I kidding). If you really like the pineapple + jalapeno combo, consider making a Pineapple Jalapeno Margarita too!
Ingredients:
4 whole wheat pitas
1/2 cup barbecue sauce - store-bought or homemade
2 cups shredded mozzarella cheese
2 jalapenos - deseeded and sliced into thin circles
1 cup pineapple - thinly sliced